research of Kevin Everingham of MI (2008):
(photo right) young Don Morgan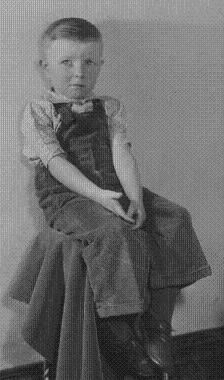 1940 CENSUS Delhi Township, Ingham, MI (Sheet 8A, family #159)... Floyd A. Morgan 30, b.MI, residence in 1935; Rural, Shiawassee, MI,.. Berturde Morgan 25, wife,.. Donald Morgan 4,.. Robert Morgan 1.
In 2006, Don and many from his family attended the Everingham/Morgan family Reunion at Kevin Everingham's home in Sheridan, Michigan, where approximately 200 people attended. (photos may be added at a later date)
2008 Obituary --- Donald Spencer Morgan, 72 of Harrison, passed away on Tuesday, February 12, 2008 at his home. He was born on August 11, 1935 in Lansing, Michigan the son of Floyd Alfred and Gertrude Mae (Neigh) Morgan. Donald married Bertha H. Lumbert in Lansing, Michigan on April 2, 1952.
Mr. Morgan had resided in Harrison since 1979, coming from Lansing, Michigan. Donald was a "workaholic". He enjoyed stock car racing, hunting, reminiscing about old times, tinkering in his garage and traveling during the racing season.
Surviving Donald is his wife, Bertha, four daughters, Peggy Ann Allen of Harrison, Jackie Linn Morgan of Harrison, Susie Mae Conner of Plymouth, Michigan and Vicki Jo Torrez of Lansing, Michigan, one brother, Larry Edward Morgan and wife Irene of Mason, Michigan, one sister, Darla Mattock and husband Richard of Fort Meade, Florida, nine grandchildren, fourteen great grandchildren, several nieces and nephews and his K-9 companion, Buff. Mr. Morgan was preceded in death by his parents and one brother, Robert Floyd Morgan.
In keeping with Donald's wishes cremation has taken place. A Memorial service is planned for 1:00 p.m., Monday, February 25, 2008 at the Hope Baptist Church, 3315 E. Townline Lake Rd., Harrison, with Pastor Eric Pittman officiating. Memorial contributions may be considered to the Morgan family; in care of Bertha Morgan.