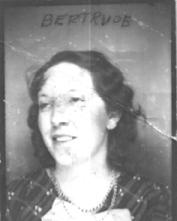 Bertrude (Neigh) Morgan

research of Kevin Everingham of MI (2000-2010):

1May or may not be the same "Bertrude", Social Security Death Index shows 1 Bertrude Morgan (b.22 Feb 1915) d.Sept 1972., Last residence, Dimondale, Eaton Co., MI.

Donald S. Morgan (b.11 Aug 1935) died 12 Feb 2008 (age 72) at Harrison, Clare Co., MI.

1927 The Cheboygan Democrat, June 2, 1927.. (social section TOWER) "Wm. Morgan, wife and two children are home from Owosso for a few days. Wm. Wrigglesworth and family, Jack Wriggleswroth and Lloyd Morgan and brother of Owosso are guests at the home of their uncle Wm. Morgan.... Sunday afternoon a near serious accident occurred in front of the Wm Evans home a half mile south of Tower when two cars went into a ditch. One a Dodge driven by Jack Wrigglesworth of Owosso and occupied by 8 persons turned turtle and it is a miracle that the occupants of the car escaped being killed. The other car a Ford driven by Ervin Veihl was going at high speed when young Wrigglesworth attempted to go past. Viehl drove into the ditch in order to avoid being hit and the other car tipped over. Floyd Morgan of Owosso had several ribs broken and his head badly cut. Dr. McMillan was called to attend him. Reselba Bernia was badly cut by broken glass. Others in the car were bruised and badly shaken up. "

1930 CENSUS, Woodhull Twp., Shiawassee Co. MI -- William J. Morgan 47,.. Gertrude D. 41,.. Floyd A. 20,.. Helen L. 15,.. Annie H. 9,.. William H. 4.

1940 Census found in 2012:
1940 CENSUS Delhi Township, Ingham, MI (Sheet 8A, family #159)... Floyd A. Morgan 30, b.MI, residence in 1935; Rural, Shiawassee, MI,.. Berturde Morgan 25, wife,.. Donald Morgan 4,.. Robert Morgan 1.

Kids in TOWER, MI, circa 1922 (l-r)
Berneice Beehler, Floyd Morgan, Helen Morgan, Leora Morgan & Ann Morgan.


Floyd was about 12 in this photo.
from the photos of Leora Morgan Everingham