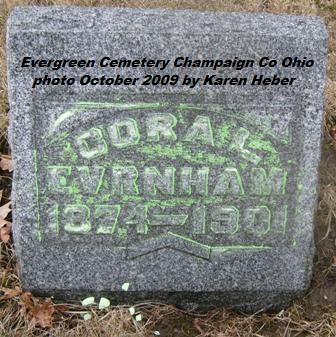 fact sources and writings about this individual:
1Family outline from the files of Sandra J. Evilsizer, of NM.
2Information organized by Tom Phillips, of PA.
3General information from the research files of Ann J. Everingham and Roger Harris.
4Information gathered from various sources & Internet by Kevin Everingham 2000-2004.
---
5[NI52432] CCGS, Book III, Champaign Co, Ohio
St Paris Newspaper Abstracts Jan 1900-1916, pg 24. 2/8/1901
Cory Everingham had taken ten grains of morphine with suicidal intent and was dying. He was at home, with his wife fixing supper. He took the medicine in her presence. they gave him hypodermic injections but to no avail hr died. He had been married but three months to Miss Blanch Reams. His age was 26y4m11d. The funeral was conducted by Rev Garman of the Zion Lutheran Church. The remains were buried at Evergreen Cemetery. His father, Joseph Everingham came from the State Soldiers Home in Sandusky to his son's funeral.
1901 St. Paris Era Dispatch, Feb 21, 1901... "Resolution of respect. Whereas the St. Paris Volunteer Fire Department has sustained a loss by death of Cory L. Evernham, and Whereas, it is fitting to pay a tribute to respect to the departed, be it resolved that in the death of Cory L. Evernham, the St. Paris Fire Company has lost a worthy member... E.H. Cline, John Poorman, W.H. Walborn."