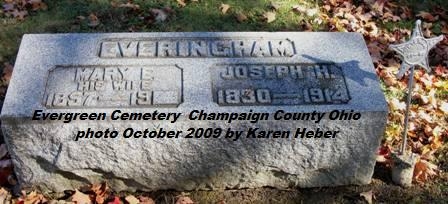 fact sources and writings about this individual:


1Family outline from the files of Sandra J. Evilsizer, of NM.
2Information organized by Tom Phillips, of PA.
3General information from the research files of Ann J. Everingham and Roger Harris.
4Information gathered from various sources & Internet by Kevin Everingham 2000-2008.
Death Cert; Joseph H. Everingham, d.23 Oct 1914 St. Paris, Champaign, OH, b.16 Feb 1830 Trenton, NJ, 84y, 8m, 7d, retired stone mason, burial; Evergreen cem, father; Ezekiel Everingham of NJ, mother; Anna Jerney(sp).
5Interment Record from Karen Heber 2010. Everingham, Perry b.16-Jul-1872 d. 22-Jan-1938 interment 24-Jan-1938 s/o Joseph & Mary Elizabeth, No visible marker as of 1-Jun-2010
6Records of Karen Heber 2010: Everingham, Joseph H, b.16-Feb-1830 d.23-Oct-1914 inter:25-Oct-1914 sec:2 lot:42 CIVIL WAR--108th Regiment, Illinois Infantry, Evergreen Cemetery, Champaign Co. OH. Cemetery marker surname spelled CORA L EVRNHAM, Lot record has name listed as Dora L Everingham, 1900 Census listed as Cora L son born Sept 1875, s/o Joseph & Elizabeth, Surname-spelled on census records is Everingham
7Everingham, Mary Elizabeth, b.25-Dec-1857 d.6-Aug-1937 Int;8-Aug-1937 sec: 2 lot: 42 Maiden Name-Shaffer Ohio Death Cert-listed as Evinghorn w/o Joseph H Everingham

Research of Kevin Everingham 2010;
1874 Birth Registration -- Cora Everingham, female, b.21 September 1874 at Champaign, OH, d/o Joseph Everingham & Elizabeth Shaffer.

1880 CENSUS St. Paris, Champaign, OH Research of Barb Curtindale
J.H. Evringham 49, mason, b.NJ,.. Lizzie 26, wife, b.OH,.. P.C. Everingham 8, b.OH, son,.. C.L. Everingham 6, b.OH.

1900 St. Paris News-Dispatch, Dec 20, 1900 Research of Kevin Everingham of MI, 2014
"Joseph Everingham returned Saturday from a couple of months stay at the Sandusky Soldiers' Home."

1937 Piqua Daily Call, Aug 9, 1937 (pg.3)... "Mrs. Everingham is dead at age of 81 -- Passes Away at her home in St. Paris following an illness of many months... Aug. 9, Mrs. Mary E. Everingham, 81, passed away at her home on West Main St, following an illness of many months caused by dropsy. She is survived by one son, Perry, at home."