married:
Maria Theresia BALTES
(b.29 Sep 1812 Westfalen, Prussia)
(d.26 Apr 1878 Westphalia, Michigan)2
married 23 Nov 1828 Helden, Westfalen, Prussia
parents:
Johannes Bernard PLATTE (b.1758)
Maria Katharina PULTE (b.1759)
---
grand parents:
Caspar PLATTE (b.1719)
Anna Maria SCHULTEN
fact sources and writings about this individual: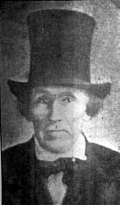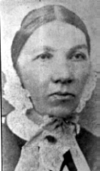 2Info from St. Mary Cemetery, Westphalia, MI
photos, Theresia Platte (left), Eberhard Platte (right)
---
First Settlers in Lyons & Westphalia, MI
An Early German Settlement


The first settlers of Lyons and Westphalia MI arrived in the port of New York October 3, 1836. They were aboard a ship called the "Leontine" which sailed from Bremen, Germany. Some of them came from Sauerland (western) Germany. Father Anton Kopp "A Priest", and Eberhard Platte's family were the first. They traveled the Erie Canal and landed in Detroit Michigan October 25th.

Father Kopp and Eberhard Platte met with Father Martin Kundig of St. Mary's Parish in Detroit, and took advice to travel to the newly established land office in Ionia. The two men traveled on foot on the "Dexter Trail" which took them past towns like Ann Arbor, Dexter, Chelsea, Stockbridge, Mason, Lansing and DeWitt. They arrived at the land office in Ionia on November 4th and waited six days before purchasing 560 acres where St. Mary's Parish would be established as well as the future town of Westphalia.

Five men, - Anton Cordes, Joseph Platte, John Hanses, William Tillmann, and John Salter were waiting in Lyons for Father Kopp and Eberhard Platte. A hired trapper guided them to their land-holdings. These original seven men named the settlement "Westphalia", in memory of their German homeland. In mid November, they retrieved the rest of their family who were waiting in Detroit. In March 1838, a two room log house was completed that served as the first church. More than 300 families emigrated to Westphalia from Germany until 1923. Eberhard Platte's family settled near Lyons, MI until 1843 when he bought 45 acres in Westphalia, MI.

Research of Kevin Everingham, Sheridan, MI (2000-2009)
1828 (Indexing batch #M99239-2 ODM Film #949261) Marriage Record; Joh. Everhard Platte, married Maria Theresia Baltes, 23 November 1828 at Roemisch-Katholische, Helden, Westfalen, Prussia.