fact sources and writings about this individual:
Research of Kevin Everingham 1990-2014

1841 Supreme Court lawsuit, listed in several New York Newspapers (Legal sections) December 8th, 1841... ...Defendants, Jacob Compton, Maria Compton, Henry Springsteen, John Springsteen, Eliza Springsteen, Catherine Springsteen, Barnabas M. Springsteen, Levi Springsteen, Eleanor Springsteen and Sarah Cronkhite could not be found in this county, not they had anything therein by which to summon them. Most of these Springsteens had moved to Michigan before 1840. (1837 by some accounts) When still living in New York, Henry served in the War of 1812. Henry died in Michigan the year after moving there.

Eliza Springsteen died at LaGrange 15 Oct 1895, age 83 b.NY (born abt 1812), single, daughter of Henry & Elenor Springsteen.
Catherine Springsteen died January 12 1911, at LaGrange, age 89 (born Dec 1821), daughter of Henry Springsteen & Elenor Clark
Levi Springsteen died at Lagrange, age 90 b.NY, farmer d.9 June 1905, widowed, son of Henry Springsteen & Elinor Clark. He was born March 10, 1815 in Ontario County, NY. Levi married Arminda Vanderhoof in 1842.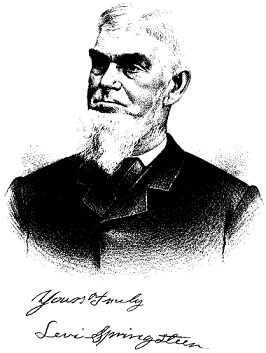 Sally Springsteen, d/o Henry Springsteen & Eleanor Clark, married John Cronkhite 1820 in Lockport, Niagra, NY, they had at least 7 children. She died at St. Joseph, MI 1874.

PHOTO RIGHT - Levi Springsteen (1815-1905) of Cass County, MI, son of Henry.
Portrait and Biographical record of Berrien and Cass Counties, Michigan, Biographical publishing 1893... "Henry Springsteen, who was reared upon a farm in his youth was bound out to an elder brother to learn the trade of a carpenter and after completing his term of apprenticeship followed that trade for many years. He married Eleanor Clark, and soon afterward removed to Ontario County, N.Y. They became parents of four sons and four daughters, three now living as follows; Eliza, Catherine and Levi. He was a man of great loyalty to his country, serving with valor in the War of 1812, although he never received any compensation for his services. "

burials at La Grange cemetery, La Grange, Cass County, Michigan.. "Eliza Springsteen Quick (d.5 May 1855)... Catherine Springsteen (d.12 Jan 1911)... E.S. Springsteen... Eleanor Springsteen (d.6 Jun 1843 ae; 66y, 1m, 17d)... Eliza Springsteen (d.28 Oct 1895 ae; 83y, 5m, 22d)... Henry Springsteen d.26 Aug 1838, ae; 58y, 9m, 9d)... Levi Springsteen (d.9 Jun 1905 ae; 90y, 2m, 29d)... Mary Springsteen (d.15 Mar 1888 ae; 71y, 4m, 19d w/o Levi)... Rebecca Adeline Springsteen (d.25 May 1884 ae 23y, 9m, 18d, d/o Levi & Arminda)... Sarah Springsteen (d.1874 age: 74y, 22d)"