fact sources and writings about this individual: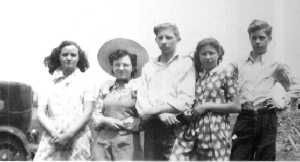 Photo (left to right) Marion Stoner, Inez Everingham, Elmer Stoner, Barbara Stoner & Jerry Stoner.
Kenneth A. Stoner was a twin born April 23, 1907, to William Stoner and Belle Everingham of Onaway. Kenneth married Neva E.Lefler and had three children; Elmer, Jerry, and Barbara. Ken Stoner died October 12, 1963 and is buried near his parents at the front of Hillcrest Cemetery, Onaway, MI.
(Kevin) In 2003, I talked with Barbara. She said that she had married Richard Martin, and he had died in 1988. She went on to ask if I had ever been to Onaway & said "M33 heads south from Onaway. Just south of town there was an old schoolhouse on the corner of a side road. On that road, Charlie Everingham & the Stoners, and Dale Everingham lived. Cliff Everingham also had a cabin on Charlie`s property. She also remembered going to grade school with Inez and Ruth Everingham, cousins who lived nearby.
Barbara died in October of 2003.
Jerry H. Stoner was born March 21, 1931. He married Arvajean Isetta Porter on February 4, 1950 in Wyoming Township, Kent County, MI. The wedding was officiated by Cornelius Blankner, Justice of the Peace. They later moved to the Pierson area of Montcalm County, MI.
1926 Presque Isle County, MI Marriage Record (#226) .. Kenneth Stoner 20, s/o William Stoner & __ Everingham,.. married 14 December 1926 at Presque Isle county, Michigan, to... Neva Lefler, daughter of Herbert Lefler & V. Rands.
2001 SSDI - Elmer R. Stoner, b.9 Dec 1927 MI,.. died age 74 d.3 Sept 2001, last residence: Rio Linda, Sacramento, CA