fact sources and writings about this individual:
Family research of Kevin Everingham of Michigan, 1999-2012
image right Majorie's school photo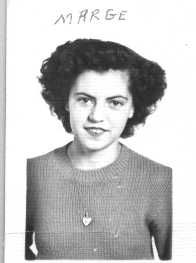 1940 CENSUS Meridian Twp. Ingham, MI ... Harry Wiggins 33,... Helen 25, wife,.. Marjorie 8,.. Harry 6,.. Joan 4,.. Betty 3,.. Nellie 1,.. Gertrude 0.
2000 Obitaury -- "Marjorie L. Walters, After surviving cancer for many years, on October 9, 2000, Marjorie (Marge) Walters was taken to be with her Lord after a final battle with the disease. Born Marjorie Louise Wiggins on April 21, 1932 in Shaftsburg, Michigan, the eldest of six children, she met and married Forrest Walters and raised their family in the Lansing, Michigan area. Marge worked at the Lansing Public Market for over 15 years where she was adored by the many people with whom she came in contact. In 1986 the Walters retired to Samish Island where Marge's smiling face and enthusiastic nature became a part of the Edgewater Garden Club, Sew-Sew Quilters and the Samish Island Reorganized Church of Jesus Christ of Latter Day Saints. Her love of children brought so much joy to her life, she taught Sunday School and volunteered her time wherever she could put her great talents to work. In warm weather she could be found tending her lovely garden and when the cold came she could be found quilting or creating crafts which she generously gave to those around her. Marjorie is survived by her husband, Forrest with whom she celebrated their golden wedding anniversary last year surrounded by family and friends. A loving and dedicated mother, she leaves behind her daughter, MaryAnn Premoe and husband Roger of Brier; her sons, Mel and wife Kacy of Redmond, Garold and wife Sharon of Kimball, Michigan, Terry and wife Dawn of Greenbank, James and wife Darcy of Sedro Woolley; grandchildren, Kimberly Walters, Michelle Walters Mickaelian and husband David, Chad Premoe and wife Angela, Chris Premoe, John Walters, Matthew Walters and Lauren Walters; great grandson, Wesley Premoe; and two sisters, Gertrude Farero of Mason, Michigan and JoAnne Chaskey of Onaway, Michigan. Even in her final days her unwavering faith was a testament to how she lived her life. She leaves her family with the legacy of her love, and carries to the beyond the pride and honor bestowed upon her by her family and friends. A celebration of Marge's life will be held Friday, October 13, 2000 at 4:00 p.m. at the Samish Island RLDS Church. In lieu of flowers, your gift of remembrance to the Affiliated Health Services Hospice would be appreciated by the family."