Everingham Family History Record Reprint... (c)2013EVERINGHAM HALL
Fayetteville, Onondaga, New York



From Hotel, to Store to private Town Hall...
---
J. Beach Beard came to the village of Fayetteville, Onondaga County, New York in 1850. In 1854 he built the Beard Hotel. He later built a flour mill, on Warren street. He also had a plaster mill and saw mill at High Bridge, among other business interests.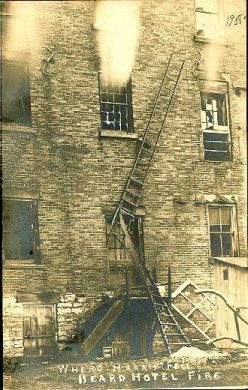 The Beard Hotel building faced both on W. Genesee and S. Mill streets. On the ground floor, facing W. Genesee, were stores which, in early years were occupied by Jewett & Blanchard and H. H. Gage. Henry Ecker, tailor, operated a shop on that site. At a later year a store was occupied by Nichols & Austin, Groceries and Hardware. Formerly, Mr. Austin was a partner in the firm of Wells & Austin, Hardware, and were located just across W. Genesee, where Frank Mott, Sr., conducted a hardware store. The Mott family were relatives by marriage of the Everinghams. Some years later the firm of Nichols & Austin dissolved, and that business became known as V. H. Nichols & Son, who carried on the hardware business. Millward C. Everingham became a clerk there. Millward was known as "Mill" and "M.C." Everingham. Later, he entered the grocery and dry goods business with Albert Carr, and that business became known as Everingham & Carr. An 1899 Fayetteville Newspaper advertised a Western Union Telegraph Office located in the Everingham & Carr store on Mill Street. They opened their store in the building on N. Mill street where, earlier, Hoag Bros. and Fred Lamphere conducted stores. Later, V. H. Nichols & Son went out of business, Everingham & Carr eventually dissolved partnership some time after 1909, and Millward Everingham came into possession of Nichols' store. in 1904 Alice Duke, daughter of H.J. Duke married Mill C. Everingham. V. H. Nichols stayed on working for the Everinghams as a clerk.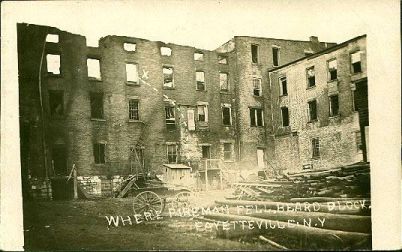 When a part of the Beard Hotel building burned in 1908, it partly destroyed Everingham's store. The total value of loss to Everingham was estimated at $4,500. Everingham acquired the west end of the building after the fire. He remodeled his stores and built a new second floor, using cement blocks. The room on the second floor was a large open space and became known as Everingham Hall.
The archway and dressing rooms, once connected with Beard Hotel, were removed, and a stairway was built on the west end of the building, giving access to Everingham Hall seperately. By 1909 the village treasurer and clerks did business out of the Everingham building. Advertisements for Everingham's store can be found in many old Onondaga County Newspapers. This is an example 1915 Store Advertisement from a Fayetteville Newspaper, for M.C. Everingham's store. At some point, a room on the ground floor was occupied by Lawrence Mott, who conducted a bicycle repair shop.
The front of the old Beard Hotel faced on S. Mill street. On the first floor there was a pool parlor, a reading room, bar room, kitchen and dining room. A wide hallway on the first floor, with stairs on each side of the hallway, led to the second floor, where there was originally sitting rooms and Beard Hall. Dances were often held in the Hall, and the orchestra was usually conducted by Addison Cole. Performances were often held there, also political speeches were delivered and, at times, medicine shows were presented, and other entertainments. When Everingham remodeled the second floor of his store, it took over what was lost in the Beard Hotel fire and was used for entertainment, political meetings, speeches and community events. Many Onondaga County New York newspapers from the early to mid 1900's mention events at Everingham Hall. According to the Fayetteville Bulletin July 11, 1919, Burglars made off with a small haul from the Everingham store. The contents of Town Clerk Nichols' large safe and Mr. Everingham's safe were strewn about and a few small items were taken. In 1925, Alice and Mill's daughter Grace married an employee of the Everingham store, John D. Kenney. He resigned in late 1925 to take another job. According to the 1926-27 Village Directory of Fayetteville, M.C. and Alice Everingham lived at 212 W. Genesee Street and were Merchants. Their Grocery and Dry Goods store was located at 107 Genesee Street. At that time, John D. & Grace Kenny were living at 114 N. Burdick Street. Kate Everingham, Millward's mother, also lived on Genesee Street close to them.