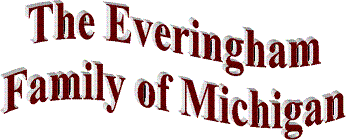 For more information about this book, check here: More about this Book
NOTE: Most of the photos & maps have been removed from this online version.
This is not an exact copy but contains most of the general text of the full book.
This copy has been converted from it's original format and is probably not 100% accurate.
This copy is not to be reproduced on any other web site and is only reproduced here to give
you a good idea of the text content of the original book for research purposes.
This book is available in 8.5" x 11" paperback with a laminated cover or on CD Rom.
(c)1999 & 2006 Michigan Prime Publications & Kevin Everingham.
---
The Family home town of Onaway


Early photo of Onaway shows how it appeared when the family first arrived in 1906. The dirt roads
had only horses & wagons for traffic. The main road, State Street, was not paved until 1920.
The large "GUMM'S" Department store is seen on the left, and shows up in many old Onaway photos.
It became Lee & Sons (see cover photo) and later the Everingham's Onaway Discount Store.




Heading on past Tower you enter Onaway, a town that has been the cradle of many of the Ever-
ingham family, for many years. Some of these families are buried near Tower and Onaway.



Most likely the first to select the Onaway area for a home was Thomas E. Shaw.....It was upon
his farm which he located in 1881 that a large part of Onaway was later platted. In August, 1882,
School District No. 2 was organized. ....Mr. Shaw was the first teacher, lining up a class of seven pupils
that year. He was also the first hotel keeper and became the first postmaster in 1883. He, over the years,
held all the township and most of the county offices in Presque Isle.


Three years after Mr. Shaws arrival came Merritt Chandler, a Michigan lumber man who is
known by some as the "father of Onaway". In his explorations for the location of timber lands he
drifted into this part of the state and was impressed with its stock. In 1884 he built a residence at Shaw
post office, around which had sprung up a little cluster of houses. Mr. Chandler opened the first general
store there, using a part of his residence to start, and in 1886 moved his family into the building.


By 1905, Onaway was a booming town. It
boasted 2 opera houses, 2 public halls, a theater, 2
news papers, 3 or 4 large hotels, 9 churches, 17 sa-
loons, 2 bakeries, and a laundry. It also had clothing
stores, grocery stores, restaurants, drug stores, and sev-
eral small stores selling various goods. At that time,
Ira Everingham's cousin Jesse & his wife Barbara
Everingham were living in Onaway, having previously
lived in Cheboygan County.



Page 88

---


The only records found to


The Old Lobdell Company Building (shown above) was
restored and utilized for other purposes, and remains
one of the most recognizable buildings in Onaway today.



pin-point the move of Ira Evering-
hams family to the Onaway area,
shows them living there by 1906.
All 3 of their girls Belle, Edith &
Alice, lived in the area, and have
headstones in cemeteries near Ona-
way. Family stories say that Char-
lie & Clara Everingham moved to
Onaway from Turner, MI by horse
and buggy.

Onaway was incorporated
as a village in 1899 and as a city in
1903 which is probably about 3
years before the family arrived. Ira
and Louisa faced another death of a
child on October 10th, 1907 when their oldest son "Rob"- Robert J. Everingham died of typhoid
fever, at age 27. He was buried in Arenac County, where they had just moved from & where is wife's family lived.


In 1900, the census showed Onaway's population as 1,204, and by 1910, had grown to
2,702. In the early 1900's, the first young Everinghams to the area had married. The oldest boy,
Ernest George, who was known as George Everingham and wife Maggie (Rickard) raised their
family in Onaway. Their Children were;William George, Kenneth Lyle, Lulabelle, Ira , & Percy.
George and Maggie show up in the Onaway Census on April 15, 1910. At that time, they lived
on State Street and had been married for 8 years. Like his father and brother, George worked in a
saw mill which was the major employer of the Onaway area at that time. They had 3 children in
1910, William was seven, and attending school. Lyle was five, and Lula
was three years old. Percy
and wife Mildred and their
children remained in Onaway
and the surrounding areas.


(2 photos) Hunting in Onaway
Early to mid 1950's Group Below (l-r);
Gene Hollinshead, Dale Everingham,
Don Harrison, Gene Everingham, and Pat Larsen.

Photo Above,
taken in 1925
Dale Everingham
(left) about age
17, and an
unidentified
friend or relative.



The next oldest boy,
Charles Everingham, known
as Charlie Everingham mar-
ried Clara Jane Graves at Ma-
ple Ridge, Arenac County, in
1905.

The Graves family had a
close relationship to the Ever-
inghams and Willard, Clara's
brother, who was a preacher,
did some of the family wed-
dings. Their brother George
S. Graves married Charlie
Everingham's sister Edith.
Charlie & Clara had 2 sons

Page 89

---
Photo labeled "Everingham Orchestra 1922" (left to right) Howard Wellesley, Charlie Everingham,
The young Fiddler on far right is 14 year old Dale Everingham, young boy in front is Cliff Everingham.



and 2 daughters. Both girls died very young and
were buried at Elmwood Cemetery in Onaway.
Raymond, known by his middle name "Dale" was
born in 1908. Dale and his wife Leora, operated a
small grocery store & gas station south of Onaway
on M33. The 1910 Onaway census shows Charlie
& Clara living on State Street. Son Dale was 2
years old, and it's noted that they had 1 child who
had died. From other records, it is known that the
child who had died was Viola. It's also noted that
their family immigrated to the United States in
1885 from Canada. Charlie worked in a local saw
mill. Their son Dale's children, were raised in
Onaway, and included: Inez Marie, Lillian Ruth,
Edith Arlene, Eugene Dale, Neva Mae, and
Marvin Neil Everingham.
Dale's Grocery Store on M33, daughters Ruth and Neva Everingham standing outside.

Circa 1946.

Jim Wregglesworth of Tower, remembers
his family shopping in Dale's little grocery store
between Onaway and Atlanta. Jim said "Dale
played a mean fiddle!" He recalled that Dale
played with his father George Wregglesworth
many times. He also recalled the musical talent of
Dale's daughter Edith. Charles and Clara's other




Page 90




---
Onaway Outlook Newspaper Clipping 1984 Advertisement
For "Gene Everingham's" Onaway Discount Store. At that
Time, the store was managed by Marv & Tarry Everingham.

An early photo of

Joe Prentler in his

National Guards Uniform




son, Clifford married Theal Neigh in
1942. Their children were Jane,
Raymond, and Chris. Both Dale
and Cliff Everingham, and their

Gene, Edith & Neva Everingham in
downtown Onaway. - Circa 1942


families lived around Onaway.
They eventually moved to the Car-
son City and Crystal area of Mont-
calm County, Michigan. Charles
and Clara would also move to this
new area of Michigan. Dale and
Leora started their own conven-
ience store in Butternut, just outside
of Carson City in 1957. Their sons,
Gene and Marv were both business
minded entrepreneurs. Gene would
later return to Onaway to purchase
the old Lee's Department Store, one
of the largest downtown buildings,
that would become the Onaway
Discount Store. This is the same
building where Gene's mother
worked in a garment factory up-
stairs when she was 17.

Many family members worked
at the Onaway Discount Store,


Page 91
---
including myself.



Inside of the old Faye Lee's Department Store that later became the
Onaway Discount Store, owned & operated by the Everingham Family.



Gene & Marv's sister
Edith, managed the
store with her husband
Joseph Prentler. Edith
and Joe were instru-
mental in expanding the
store to include Sport-
ing Goods. Edith was
civic minded and was
part of Onaway's
Chamber of Commerce.
When Joe Prentler died
in Onaway in 1995,
Edith moved away and
later remarried. When
Marv Everingham
planned to marry again, he moved back to Onaway where he and fiancée Tarry were married in
1982 at a beautiful setting, literally "out in the woods." They lived in Onaway for a few years.
While living in town, they managed the Onaway Discount Store. They later moved to Afton, near
Tower. Tarry worked for Brewbakers in Onaway,
and Marv started his own Sporting Goods store and
was a Township Supervisor & Assessor. He later
worked for the Cheboygan newspaper until he retired.




Barbara (King) Everingham with children;
Ethel & Hughie Everingham circa 1910
Original photo borrowed from
Emily Wright, Ethel's daughter



As for the rest of the earlier family genera-
tions, Belle Everingham married William Stoner,
who`s family was from Arenac County, MI.


Belle's sister Alice Everingham married Ar-
thur Keller, and after being widowed, later married
local Onaway merchant Lorn Manning.


The third sister Edith married George S.
Graves. The interesting thing about this was, George
Graves and Clara Graves were siblings. Clara Graves
had married Charlie Everingham, which was
Edith's brother. This had happened in the previous
generation when Ira married Louisa Norris, and Ira's
sister Alice married Louisa's brother Charles Norris.
Edith Everingham-Graves was widowed, and later
married Ed Klein from Three Rivers, Michigan.



Onaway has been the hometown of a large
group of the Everingham family in Michigan since
the early 1900's. Ira Everingham's distant cousin
Jesse Owen Everingham who married in 1890 to
Barbara Boyd King in Parry Sound, Ontario, moved
to Michigan with their daughter Elizabeth. They ar-

Page 92

---

rived in 1892 on the ship "Atlantic" from
Parry Sound, to Sault Ste. Marie, Michi-
gan. According to records found so far,


A Onaway Wedding December 15, 1946

Chuck Bowers, Inez Everingham, Rev. Willard Graves, L.Ruth Everingham, Junior Harrison, Lillian Harrison.



they lived in Cheboygan county and by
1905 had moved to Onaway. Jesse and
Barbara also later lived near Ocqueoc,
just east of Onaway. That move may
have been made when Jesse was granted
40 acres in a Government land grant in
1912. Their daughters were Elizabeth
Hannah Everingham who married Cecil
Curtindale, and Ethel Everingham who
married Joseph Grandmason. Any Cur-
tindale or Grandmason families that lived
around Onaway were probably descen-
dants of, or in some way related to the
Everingham girls. Ethel is buried in Elm-
wood Cemetery in Onaway. Jessie and
Barbara's son Hugh Albert Evering-
ham, AKA "Hughie," birth son of Alice Everingham and Arthur Keller, died of typhoid fever
in 1917 before his 14th birthday. They had also raised a girl Christina Smith, who chose to
use the last name "Everingham". Christina married Kenneth, aka Lyle Everingham in 1925, son
of George (discussed previously). Some family researchers have suggested that at least one of
Jesse's 13 siblings visited Presque Isle County from time to time.



The main success of Onaway in the past was industry, and it relied on city mills and fac-
tories of mainly lumber and hardwood products. Of the earliest industries, Onaway's largest
plant was operated by the American Wood Rim Company, of which E.J. Lobdell was presi-
dent. They produced bicycle and automobile steering-wheel rims. The Lobdell & Churchill
Manufacturing Company also ran an extensive plant for the turning out of hardwood lumber.
Records indicate that many of the Everingham family and their relatives worked at the Saw
Mills or Rim factory in Onaway, which had became the trading center for a large district. Ona-
way realized a fair amount of business from the summer travelers which came to her doors and
passed through into the secluded woodlands, lakes and streams in her immediate vicinity. For
many years, it has been said that the Black and Rainy rivers are among the best trout streams in
Northern Michigan. Local outdoors excursions to
the Pigeon River country and huge local lakes Black,
Burt, and Mullet, bring streams of vacationers. Hid-
den fishing treasure troves like the floodwaters


Onaway's 50th Anniversary 1899-1949

photo of a 25¢ coin, produced in 1949, to be redeemed at stores in Onaway before December 5th of that year.


known by the locals as Mud Lake just a few miles
outside of Onaway are a treat for the outdoors type.
The industrial Onaway of the past would have suf-
fered Tower's fate if not for being such a tourist
magnet today.


Even today, Everingham
descendants live in, and around Onaway.



Page 93



---

1957 Plat Map of Allis Township, Presque Isle County, MI



In 1957, Dale & Leora, and Dale's parents Charlie & Clara Everingham moved south to Montcalm County.
This 1957 map shows the areas where family & friends owned property near Onaway, Presque Isle County, at that
time. You can also can see that George Everingham owned land in sections 16 and 21. He did not own them in
1930, according to the 1930 Plat records. Charles Bowles' daughter Hilda, married George Wregglesworth. Charles
had 120 acres between section 21 and 22 below. I don't know if that was Charles Bowles Sr or Jr. George
Wregglesworth owned 120 acres in section 27. George's parents were Ralph & Leora (Morgan) Wregglesworth.
Earl and Elwayne McAtee owned land in sections 20 and 21, near George Everingham. George's son Percy married
Earl McAtee's daughter Mildred. Other distant family relatives and friends names can be found on this map, like;
Branscombe, Peterman, Robinson, Milligan, Tennant, Price & others.



3/4 page North Allis Township Plat Map.

Not shown in this text copy.


Page 94

---
It's interesting to note that the map below of the south part of Allis Township was full of owners according to the
1930 Plat map, and when compared, this map shows a huge State Forest area that was not there in 1930. Where did
all of this new State land come from? This perfectly illustrates a common occurrence after the Great Depression,
when land owners lost their land to the State, when they could not make payments or pay taxes.

In Section 5 below, you can see that Charlie Everingham owned 40 acres. Across the street, his son Dale owned 40
acres in Section 8. When comparing this to the 1930 Plat, it shows that Charlie Owned both of those pieces of land
and one more in the middle top of section 7. I believe he sold or lost that piece during the Depression since it is
State Land in this map. Lloyd Graves, son of Edith (Everingham) & George Graves, owned 40 acres in section 17.



3/4 page South Allis Township Plat Map.

Not shown in this text copy.


Page 95

---

The Michigan Lumber Industry
And the Civilian Conservation Corps.




The great depression put a large proportion of the country out of work. In 1932, Franklin
D. Roosevelt ran for president on a platform to fight against soil erosion and the declining timber
resources and promised to do something about the record levels of unemployment. By the turn of
the century, Michigan had endured great destruction to it's natural resources. The huge native
Michigan trees had been harvested and land was highly eroded, and in rough shape. By the
1930's, thousands of farms were unproductive and were actually abandoned in Michigan. With
the nation in a near panic, Roosevelt won the election by a landslide. He had many plans to
achieve his goals, but the Civilian Conservation Corps (CCC) addressed them all. On March 31,
1933, Roosevelt signed a bill into law forming the CCC, a peacetime army of civilian workers.
The program was run by the military, but enrolled civilians who were unemployed. Between 1933
and 1942, Michigan enrolled over 100,000 men and planted an astonishing 484 million trees. This
was more than twice the number of trees planted by any other State.


Boys accepted into the CCC, first went to temporary conditioning camp, and then on to
their work camps for 6 month stays. Camps were formed in the forests, 20 miles or more from
nearby towns. By the end of each month, eggs were blue and bread was hard & moldy. The camp
cooks had to heavily pepper meals to cover the flavor, but the presence of mold actually helped
keep the workers healthy.


At the time, people worked for 10 cents per hour. Conservation Corps workers earned $30
per month and had to send $25 of that home to their family. The CCC planted trees, cut ice for
refrigeration, set up fire lanes and fought fires. They improved and built beaches and parks and
even built the first ski resort in the mid west, called caberfe. Unemployed loggers & retired mili-
tary men were hired to teach the boys about animals, the woods and how to build log structures.


By 1937, the economy was recovering and camps began slowly closing. By 1942, only 14
camps remained. Money was allocated by congress, to dismantle the remaining camps. The Ci-
vilian Conservation Corps had served it's purpose. Boys helped their families make it through the
depression, and recovered great forest resources. They revitalized the parks system, and planted
156 million fish, and constructed 7,000 miles of truck trails. Much of the forest lands of Michigan
today can be attributed to the CCC workers of the 1930's. Michigan was transformed from sand
blown, abandoned farmlands, to great natural resources. They had redirected the State to the hunt-
ing, fishing and lumber rich industries that survive today.



The photo on the next page shows a Civilian Conservation Corps made up of men from the
Ocqueoc and Onaway area of northern Michigan's Presque Isle County. They hold spud bars, that
were used to plant seedling trees. The State forest areas in Presque Isle County, were most likely
planted by the CCC. Some of the trees were certainly planted by the men in this photo. Dale
Everingham was the son of Charlie & Clara Everingham, & grandson of Ira & Louisa Everingham
of Onaway. The two Stoner boys in this photo were the sons of William & Belle (Everingham)
Stoner of Onaway. This photo was sent by the Stoner family who obtained it from the Peterman
family. They originally obtained it from Edith (Everingham) Prentler.

Page 96

---
full page Presque Isle County Civilian Conservation Corps. Photo.






Page 97




---
The SIXTH generation of Everinghams were born near the turn of the century.
These are the Grandchildren of Ira and Louisa Everingham To give an idea
of the time they lived in, This is what the World was like:

1903 The Wright brothers make the first airplane flight.
1904 Roosevelt is re-elected & in 1905 He's the first American to win the Nobel Peace Prize
1908 Henry Ford develops the assembly line method of producing the earliest automobiles.
1911 US passes the Panama Canal Act & Maine becomes a "dry" State, outlawing alcohol.
1912 The Titanic Sinks.
1917 America enters World War I & the Jones Act replaces the Foraker Act which allows
drafting into the US military and citizenship to Puerto Rico, but denies voting rights.
1919 The 18th Amendment to the US Constitution outlaws the sale of alcohol.
1925 Al Capone takes over organized crime from Johnny Torrio, Chicago Area.
1929 A Stock Market crash leads to World-Wide Economic Depression.



Loretta Everingham AKA "Retta"



Loretta Everingham was born October 20, 1902 to Robert & Ra-
chel Everingham of Turner, MI. On this 1907 photo (right) she is noted
as "Retta". In Census records, she is noted as Loretta or Retta. Her fa-
ther died when she was young, and for a time, she lived with her grand-
parents Ira and Louisa Everingham in Onaway, but later went back to
live with her mother's new family. Her mother remarried in 1908 to
George Rhodes. Loretta grew up in Flint, Michigan. Relatives of the
Viele family say that Loretta may have married and moved to Pennsyl-
vania.

Ethel Elizabeth Everingham


Ethel Elizabeth Everingham was born February 18, 1904 in Turner, Arenac County,
Michigan to Robert & Rachel Everingham. Robert died in 1907 and Rachel married George
Rhodes in 1908 in Iosco County, MI. Ethel first shows up in Census data in Goodar Township,
Ogemaw County, MI 1910. George & Rachel Rhodes were listed with Retta & Ethel and other
family. By 1920, the family was living in Flint, Michigan, and Ethel was 16 years old. Accord-
ing to Pat Viele, a relative, Ethel married first to George Peters, and later married Don Pepper.

William George "Bill" Everingham


William George, known as Bill, was born September 22, 1902 in Turner, MI. Bill
Everingham was the first born of George and Maggie Everingham. Bill married Barbara Siddle
August 7, 1920 in Rogers City, Presque Isle County, MI. Marriage records show that their mar-
riage was witnessed by John and Aura McKenzie. Note: William's grandmother was Sarah
McKinley or McKenzie? William and Barbara had one child: Lois who was born January 23,
1922 in Onaway, MI.


Barbara Siddle shows up in the 1920 Onaway City Census. The census shows Barbara
Siddle living with somone named Emma Marriott, on School Street. Several borders lived with
Ms. Marriott. Like some of the borders she lived with, Barbara was employed at the Rim Plant



Page 98

---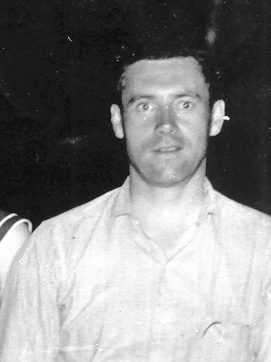 "Bill Everingham"


Lyle "Gus" and his brother Percy Everingham (possibly 1970's)


in Onaway. They later lived in flint where Bill worked as a foreman in the Chevrolet factory
and by 1955, he had become a Manager. Barbara worked in different beauty shops. From
1953 to 1955 Bill lived in Saginaw but retained his job with Chevrolet. By 1956, Bill and
Barbara were living back in Flint, and he had become the Plant Manager for the V8 engine
plant, Chevrolet motor division of General Motors Corporation. He remained as plant
manager into the 1960's.

Kenneth Lyle Everingham


Kenneth was known as Lyle, or "Gus". He was born September 11, 1904 in Turner,
Arenac County, according to a late birth recording in 1942. Lyle was the son of George and
Maggie (Everingham of Turner. Lyle married Christina "Tena" (born Smith) June 2, 1925 in
Rogers City, MI. Tena was a foster child raised by Jesse and Barbara Everingham, distant
family cousins from the Ocqueoc area of Presque Isle County. Jesse and Barbara had also
raised Alice Everingham (generation 5) and Art Keller's son Hugh. Lyle and Tina had six
children before moving from the Onaway area by 1930. Lyle Jr, Robert George (b.1928),
Donna Rae, Jacqueline (b.1931), JoAnn (b.1934), James Roy (b.1937). The oldest children
were born in Onaway, but by the 1930 census, they were living in Flint, MI. They lived in
Mt. Morris Township, Genesee County, on Dixie Highway. Lyle A., their oldest child, was
3, Robert was age 2, and Donna was age 1. Linda Lee was born 1946 in Adrian, Lenawee
County, Michigan. In July of 2002, Liz Grandmason-Hawkins of Florida remembered that
when she was a young lady living in Onaway, Gus and Tena Everingham were two of the
neatest and most sophisticated people she knew. Gus and Tena were her aunt and uncle.

Lyle and Tena later moved near Charlotte, North Carolina where he died November
5, 1984. Tena died in 1999. A few Everinghams can be found in North Carolina today, that
may be descendants of Lyle & Tena.


Page 99



---
Lula Belle Everingham
& the Comfort Family

Lula, known as Lulu Everingham was
born January 6, 1907 in Turner, Arenac County,


Wedding photo of
Earl & lulu (Everingham) Comfort


MI. She was the only girl of George and
Maggie Everingham. She married Earl Com-
fort April 30, 1924 in Onaway, MI. Their wed-
ding was officiated by Reverend Robert A.
Morton and was witnessed by Mr. & Mrs. Vic-
tor McCormick of Onaway City.


Earl was born about 1899 in New York.
He was the son of Lancelot C. Comfort and
Mary Ann Beecher. Lancelot & Mary are both
buried at Hillcrest cemetery in Onaway, MI.
Lancelot was born 1863 in Canada. Mary Ann
was born 1873 in Batavia, NY. Lancelot ended
up in New York where he and Mary Ann had at
least four children. Their children included;
George (b.1892), William Augustus (b.1894),
Lena May (b.1896) and Earl, who married
Lulu.



Flint Journal Obituary 1969

Mrs. Lula B. Comfort passed away Febru-
ary 11th, 1969 at the age of 62. She was
born in Turner, Michigan, January 6, 1907.
Parents were Margaret Everingham and the
late Geo. Everingham of Onaway. She left
one son, Earl and three daughters, Mrs.
Everett Bush (Louise), Mrs Basil Roth
(Juanita) and Miss Kaye Ann at home and
all of Flint, and her mother Margaret of
Onaway and brothers, William of Flint,
Lyle of Adrian, and Percy of Onaway ,
three grandchildren, several neices and
nephews. Her husband Earl passed away
five years ago. Interment at Flint Memorial
Park Cemetery.


Lula Belle and Earl had four children;
Louise M. Comfort, born May 7, 1926.
Juanita Mae Comfort, born June 19, 1930.
Earl S. Comfort Jr., born January 9, 1936.
Kay Ann Comfort, born April 1, 1951.

The family lived near Flint, Michigan. Earl Sr.
died about 1964. Lulu died February 11, 1969
(age 62). They are buried at Flint Memorial
Park Cemetery.




Comfort The Comfort family was from
Orleans County, New York
and moved to Alpena, MI
in 1900. A few years later, they
settled on a farm near Onaway,


small family tree shown here.



Page 100

---
Percy Charles Everingham
& The McAtee Family



Percy was born November 25, 1913


(photo) young Percy Everingham Photos on
this page used courtesy of Ray Everingham,
from the photos of Cliff & Theal Everingham.


in Onaway, Presque Isle, MI. He was the
last child of George and Maggie Evering-
ham. Percy's parents gave him the middle
name Charles, after George's brother
Charles Everingham who lived nearby.


Percy married Mildred McAtee
May 22, 1937. Mildred was the daughter
of Earl McAtee (b.1890) and Jessie Clark
(b.1888). Her father was from Canada, but
the McAtee family can be traced to Illinois,
Kentucky, and Maryland. Mildred is a di-
rect descendant of Edmund McAtee who
was born 1675 in Maryland.


Mildred's mother Jessie was born
May 18, 1888 in Prescott, MI. Several


Photo below; Percy & Mildred Everingham




McAtee & Everingham 3 generation family tree shown beside photo.

McAtees are buried in Elmwood Cemetery,
Allis Towship, Presque Isle, MI. Mildred
taught school for 25 years. She taught at
Tower, Onaway, and North Allis.


Percy worked for the road commis-
sion for about 20 years. They had five
children; Ruth Faye (b.1938), Kenneth
Earl (b.1942), Larry (b.1944), Patricia
(b.1946), and Gary Donald (b.1953).




Page 101

---

The Onaway Outlook
Onaway, Presque Isle County, Michigan
March 8th, 2002

PERCY C. EVERINGHAM, 88 - of Ona-
way died March 5, 2002 at Hospice House in
Cheboygan.

Mr Everingham was born November 25,
1913 to George E. and Margaret (Rickard)
Everingham in Onaway. He spent his life-
time in the area.

On May 22, 1937 he married the former Mil-
dred McAtee in Rogers City.

He retired from the Presque Isle County
Road Commission where he worked as a
foreman and he also was a farmer. He en-
joyed hunting, fishing, and woodworking.

Surviving are his wife of 64 years, Mildred
of Onaway; two daughters, Faye and David
Gee and Pat & Gary Vermilya, both of Ona-
way; three sons Ken and Sandy Everingham
of Afton, Larry and Yvonne Everingham of
Cheboygan, and Don and Rhonda Evering-
ham of Indian River; 10 grandchildren; and
eight great-grandchildren.


Percy and Mildred have provided a
great deal of information about their family
and the descendants of George and Maggie
Everingham. Percy passed away March 5, 2002.

Keith M. Stoner

Keith M. Stoner, known as "Boz", was born
April 23, 1907. He was a twin born to William
Stoner and Belle Everingham of Onaway. He
married Irene Eva Russell, December 2, 1926.
Keith and Irene had three children; Alice, Keith
Jr., and William "Bill." Keith senior died May 4,
1990 in Cheboygan, Cheboygan County, MI. He
was a lifelong resident of Onaway MI. Some of
the Stoner family are buried at Hillcrest Ceme-
tery, Onaway, Allis Twp., Presque Isle, MI.

Kenneth A. Stoner

Kenneth A. Stoner was a twin born April 23,
1907, to William Stoner and Belle Everingham of
Onaway. Kenneth married Neva E.Lefler and had
three children; Elmer, Jerry, and Barbara. Ken
Stoner died October 12, 1963 and is buried near
his parents at the front of Hillcrest Cemetery,
Onaway, MI.


from the photo albums of Inez (Everingham) Bowers.
(left-right) Marion Stoner, Inez Everingham, &
Kenneth's children; Elmer Stoner, Barbara Stoner
and Jerry Stoner, Onaway, MI

Page 102

---
Viola and Freda Everingham
Rogers City, Presque Isle Co. MI
Death Certificate
Name Viola Everinger


Date of Death    Nov. 3, 1906 
    Age          8 months 
    Cause        Pneumonia 
    Father   Charles Everinger 
    Mother   Clara Everinger 

Viola Everingham was born February 18, 1906, in
Turner, Arenac County, Michigan. Her death record filed in
Rogers City, says she died November 3, 1906 at 8 months
old. Family Bible entries give a wrong date of birth as
1907, but official records indicate 1906. The State birth in-
dex and death record agrees with the 1906 date. She was
the first child of Charles and Clara (Graves) Everingham.
That same year, Charlie and Clara moved north to Onaway,
with baby Viola, probably to avoid the embarrassment of
Viola's birth two months after their marriage.


On November 3, 1906, Viola died of Pneumonia. As many family members recall, her
photo, seen behind the coffin in the picture below, always hung just inside the door-way of
Charlie and Clara's home.


The other girl born to Charlie & Clara was Freda Eunice Everingham. She was born on
July 25, 1910 in Onaway. Freda lived a little longer than Viola, but on September 10th, 1911,
Freda also died at just over a year old. They are buried side-by-side in Elmwood Cemetery on
the West edge of Onaway.


Originally, the tombstone showed (Everingham) along the top, and had Freda's name on
the lower left side, and Viola's name on the lower right. But, by the year 2000, very little was
still visible of the sunken, hand-made stone other than the badly weathered name
"Everingham".




This tragic scene depicts the funeral of baby Freda Everingham 1911, A grim reminder of how fragile
life was in the early 20th century. Photo behind the coffin is Viola Everingham who had died in 1906.




Page 103


---

Raymond Dale Everingham


Born Raymond Daliford Everingham, "Dale Everingham", was the oldest son of Charlie
and Clara (Graves) Everingham of Onaway. He was born March 24, 1908 in Onaway, MI. Dale
was an entrepreneur who owned his own retail gas station/convenience store except when he was
employed in the bomber plant near Lansing, Michigan, during World War II. Dale married Leora
Marie Morgan June 25, 1928 near Onaway, MI. They were married by pastor Fred Traux. Fred and
Dale both served in the Civilian Conservation Corps during the great depression. Vern Covell and
Fern Tucker were witness at Dale and Leora's wedding. Fern was a friend of Leora's and later
married Leora's cousin Cecil Wregglesworth.


Leora was the daughter of William Joseph Morgan and Gertrude Beehler of Tower, MI.
William's sister, also named "Leora Marie Morgan", married a Wregglesworth. Leora, who mar-
ried Dale Everingham, was born August 26, 1911 in Owosso, Shiawassee County, MI.



Dale and Leora had six children; Inez Marie (b.1929), Lillian Ruth (b.1930), Edith Arlene
(b.1933), Eugene Dale (b.1937), Neva Mae (b.1940), and Marvin Neil (b.1944). The first five chil-
dren were born in Onaway, Presque Isle County, MI. By the time Marv was born, the family had
moved south so Dale could work at the bomber plant. Marv was the first in his family actually born
in a hospital, in Ypsilanti, Michigan.


Robert Everingham of Texas remembers his father, Lyle Sr. fishing with Dale near Onaway,
MI. Many others remember Dale's wide musical talent range, and his hunting with the Graves and
Morgan families, among others. I have memories from my childhood, of Grandpa Dale playing
tunes for me on keyboards and his harmonica. He also wrote his own poems and songs.


In 1957, Dale and Leora moved their family and parents to Butternut, Montcalm County,





Photo of Dale & Leora at their home in Crystal, MI, 1973.

Photo of Dale
&
Leora
and Neva,

Circa 1942

Page 104
---




A young
Dale
Everingham
and
Leora Marie
Morgan

1920's





Newspaper Article, 1968 not reprinted here due to formatting issues... Headline; "Married 40 years..."

plus a photo of Cecil & Fern Wregglesworth with Leora and Dale.

Montcalm County, MI Newspaper ­ June 1968 -- When Dale died in 1974, they had been married 46 years.

Page 105
---

Michigan, and started R&L Grocery Store. Dale and Leora lived near Crystal Lake. Dale re-
tired from the store, between 1967 & 1970.


He died of heart problems March 15, 1974 at his home in Crystal, Montcalm County,
MI. Leora died February 21, 2005. They are buried next to Dale's parents, at Bloomer
Township cemetery, Montcalm County, MI.


Clifford Elmer Everingham


Cliff was born July 23, 1917 in Onaway, MI. Cliff was the last child born to Charlie
and Clara (Graves) Everingham of Onaway, MI. Cliff married Theal Neigh January 23, 1942
in Lansing, Ingham County, MI. Theal was born August 28, 1917 in Elm Hall, Gratiot
County, MI. No birth records are available since the courthouse burned and many records
were destroyed. Theal was the daughter of George Neigh (b.1884) and Verta Mae Ross.




photo of Cliff Everingham, WWII era.

Theal's sister Bertrude (b.1915) married Floyd Mor-
gan, brother of Leora Morgan who married Dale Evering-
ham, Cliff's brother.


Cliff and Theal had three children; Jane Viola, Ray-
mond Neil, and Chris Elmer. Theal died January 29, 2001 at
Newaygo Medical Center, Fremont, Newaygo County, MI.
At that time, Cliff moved back to Carson City, Montcalm
County, MI. Cliff died July 3rd, 2003.





Theal & baby Jane Everingham




Page 106

---
early photo of
Edith (Everingham) Graves
and son.
photo of young
Lloyd and Inez Graves
Lloyd E. Graves


Lloyd E. Graves was born September 30, 1908 in Onaway, Michigan. He was the
son of George S. Graves and Edith I. Everingham of Onaway. Lloyd married Azile F.
Eichorn. She was born May 12, 1908, a resident of Onaway, she died November 25, 1988
in Gaylord, Otsego County, MI. Apparently, from brief information found in a local
newspaper, (see box below) Azile was a school teacher before and after marriage. Azile
was the informant on Loyd's Aunt Alice Manning's death certificate.


The 1950's Plat Map of Allis township, just south of the village of Onaway, shows
that Lloyd owned 40 acres in the Presque Isle State Forrest area. His property was 3/4 of
a mile off of M33 and had the Tomahawk River running through it. (see the plat map be-
tween this section and the 7th Generation section)


Lloyd died March 14, 1976 at the hospital in
Petoskey, Michigan.



Social Section / Onaway News or
Cheboygan Newspaper (date uncertain)

"Miss Azile Eichorn left Saturday for her
home in Hillman, after having closed her
school for the summer vacation."



Robert Everingham of Texas, a former Onaway
resident, recalled that Lloyd Graves was good friends
with his parents ­ Lyle and Tena Everingham of Ona-
way.



Edward Graves

According to the Presque Isle County Birth records, Edward was born Oct 12,
1910, to George S. Graves, and Edith Everingham. The birth was recorded Aug 7, 1911.
Edward had heart problems that his sister says was caused from a bad case of Rheumatic



Page 107
---

fever when he was a baby. This weakened his heart and in 1922, Edward Graves died in Ona-
way, Presque Isle County, MI. He was only 11 years old. He is buried with his parents in Ona-
way.

Inez Graves

Inez Graves (photo right) was born in 1914. She was the only
daughter of George S. Graves and Edith Everingham of Onaway. Inez
married Gerald O. Robinson in 1935. Jerry was born in 1917, the son
of Orson and Mary Robinson of Onaway. Orson worked for the city,
and built a small white house next to the grocery store in town. This is
the same house that Marv & Tarry Everingham bought in the 1980's.
Inez and Gerry raised two sons, Karl and George Robinson. I first
learned of Inez when I found her and Gerald's tombstones with only
birth dates, at Elmwood Cemetery just west of Onaway, Presque Isle
County, MI. Inez and Gerry surprised me with a call in January of
2004 and told me a little about their family. They lived in Onaway
and moved to Alpena. Gerry was drafted into the army in WWII and
served in the pacific for over two years. During the war, Inez was a teacher. They moved to
Petoskey, Michigan after the war. Inez and Jerry adopted their grand-children; Lisa and Paul
who's parents were killed in an accident. Paul was only 3 months old when they adopted him.


As a child, Inez stayed with her aunt Clara (Graves) Everingham often at her home
south of Onaway. Aunt Clara treated her special and let her help cook. Inez didn't know that
both of Aunt Clara's daughters passed away when they were very young. Inez also remembers
her mother's uncle Henry Everingham who visited summers in Onaway and took her shopping.
Since her grandpa Ira Everingham lived with her family in his later years, uncle Henry visited
them to see Ira, his brother. Uncle Henry's only son Percy, had died in 1917.


Raymond I. Graves


Photo­ Raymond Graves 1929.



Raymond Graves was born November 24, 1918 to George
Graves and Edith Everingham of Onaway, MI. His sister Inez says that
Raymond married Vivian Reynolds of Alpena and had one child, also
named Raymond. The senior Raymond Graves served in the U.S.
Army and was stationed in Greenland during WWII. According to So-
cial Security records, Raymond died August 27, 1992 in Florida.




Other Graves Children

George & Edith (Everingham) Graves had twin boys who died at birth after they were
first married. Most of the family never knew about these twins because Edith did not talk about
it. Later, their next child was named; Richard Graves. Richard died when he was very young.
Their fourth child was Lloyd, who most of the family thought was their first child.



Page 108

---
Hughie Everingham photo
from the Grandmason family

PRESQUE ISLE COUNTY
DEATH CERTIFICATE #237


 Hugh Albert Everingham 

 Died:      15 Mar 1917  

 Aged:     13y, 4m, 28d 

 "13 years, 4 months, 28 days"  

 Cause:    Typhoid Fever.  

 Father:   Arthur Keller,  

 Mother:   Alice Everingham.  


Hugh Albert Everingham


Hugh Albert Everingham, known by his family as "Hughie", was born November 17,
1903 to Alice Everingham and Arthur Keller. He was the only child born to Alice and Art
who lived into his younger years. Hugh was born before Alice and Art were married and was
raised by distant cousins Jessie Owen Everingham and Barbara (King) Everingham who lived
near Onaway, MI. Hugh died March 15, 1917 of Typhoid fever. It would be interesting to
know who attended Hugh's funeral since he was both part of our Everingham family, and part
of Ira Everingham's cousins family. Hugh's family lived near Ocqueoc, just down the road
from Onaway, Presque Isle County. He is probably buried in the Methodist Cemetery in Oc-
queoc. Jessie & Barbara Everingham are most likely buried there in unmarked graves.



Hugh's older sisters, Jessie & Barbara's birth daughters, were Elizabeth Hannah
(b.1891), and Ethel Mary Everingham (b.1893). Hugh was named after Barbara (King) Ever-
inghams father, Hugh King, who also lived in the area. Ethel who married Joseph Grandmason,
named one of her sons Hugh Grandmason. Hugh Grandmason is buried at Elmwood Cemetery
in Onaway, with other Grandmason family.


Christina May Smith

Although not blood related at all, Hugh Albert Everingham was raised as the brother of
Christina Smith, who went by the name, Christina Everingham. Christina, known as Tena,
was the birth daughter of Lillian and Andrew Smith. Andrew was crippled and unable to care
for his children. Like Hugh, Tena was taken in by Jessie & Barbara (King) Everingham as a
foster child and raised as the sister of Elizabeth and Ethel Everingham.

Christina married Kenneth Lyle Everingham of Onaway on June 2 1925, in Rogers City,
Presque Isle County. He was known as Gus, or Lyle. Percy and Mildred Everingham of Ona-
way stated in an interview, that Lyle had married a Tena Everingham from Ocqueoc, but in-
sisted that they were not related. Thinking that 2 Everinghams from the same county in north-
ern Michigan had to be related, I set out to prove that there must be a link somewhere. Finally,
Barb Curtindale uncovered the foster child data on the Smith children which proved that Tena
and Lyle were in fact, not related at all.


Page 109
---
Some of the Everinghams and Grandmasons who knew Tena, have reported that she
was a very beautiful woman who was also quite sophisticated. On March 4, 2003, I talked to 84
year old, Emily (Grandmason) Wright, niece of Tena. About a year earlier, I had talked to Liz
Hawkins of Florida, Emily's sister, who echoed much of the same information and sentiment
about Tena Everingham. Emily had been a baby sitter for Lyle & Tena Everingham in Ona-
way. She watched Lyle & Tena's children when they would go out. She remembers them visit-
ing with Dale & Leora Everingham of Onaway. According to Emily, Tena was one of the pret-
tiest women that she had seen. Emily said that when Tena & Gus had a young family in Ona-
way, they made their children take music lessons. No matter how tough times were. Tena
wanted to feed the children's talents. Musical talent seemed to run in the Everingham family,
and Emily added that in those days, people would have house parties and get together with har-
monicas, fiddles and anything they could use for an instrument. She said that Tena's son Lyle
Everingham played piano quite well.


Elizabeth Hannah Everingham



Photo­ 50th wedding anniversary of Cecil Curtindale & Elizabeth Everingham.

Newspaper clipping

Due to the close relationship of the
birth children, Elizabeth and Ethel, daugh-
ters of Jesse and Barbara Everingham, to
the family of Ira Everingham's children,
they are included here.

Elizabeth was born May 28th, 1891
at Parry Harbour, Parry Sound, Ontario,
Canada. She was noted as being a school
teacher who married Cecil Gerald Curtin-
dale at Ocqueoc, on June 11, 1913.

The Curtindale children included;
Ardee' (b.1914), Clarence Ray (b.1915),
Albert William (b.1917), Barbara (b.1920),
Faye Joyce (b.1926), and Gerald Cecil
(b.1940). Ms. Ardee Curtindale married
Murdith M. Parkin in 1932, and he died in
1992 of Lymphoma cancer in Oregon. Cla-
rence married Thelma Lakin in 1935, and
she died in June 11, 2000. Clarence &
Thelma's son Edward married Barbara A.
Rabe who has contributed a great deal to
the research and editing of this book. Al-
bert Curtindale died in 1982, in Florida.
Barbara Curtindale married Alfred Kube in
1942, and died in June of 1976 in Saginaw,
MI. Faye Joyce Curtindale married Wil-
liam Haenlein. And the last child, Gerald
Cecil Curtindale had Down's Syndrome,
and died of Pneumonia and other complica-
tions, at the State School in Lapeer County
on May 4, 1947 at age 7.


Page 110
---
Ethel Mary Everingham
Photo­ Ethel & Joseph Grandmason wedding 1914, Onaway, MI
Ethel was born August
26, 1893 in Cheboygan County,
Michigan. She was the daughter
of Jessie O. Everingham and Bar-
bara King. Before moving to the
Ocqueoc area of Presque Isle
County, Ethel's parents came
from Parry Sound, Ontario, to
Cheboygan County, MI where
she was born and the family lived
for a while. Ethel married Joseph
Grandmason in October of 1914.


Joseph Grandmason was
born July 11, 1885 in Sandwich,
Canada and was the son of Adol-
phus Grandmason who moved to
the Onaway area. (see photo, next
page) Joseph died November 12,
1942 of coronary heart disease. He
and Ethel are buried with some of
their children at Elmwood Ceme-
tery in Onaway. On January 9, 1920, The Onaway, Presque Isle County, Census showed;
Joseph Grandmason, born in Canada, was a general laborer, Ethel M, his wife, was age 26,
born in Michigan, Hugh A., their son , was age 3?, born in MI, and Beulah E., daughter, age
1 7/12, born in Michigan.



The Grandmason children of Onaway included;


1 Adolph (b.7 September 1915 died September 14, 1915) also known as "Dolph"

2 Hugh A. (b.18 August 1916 died 16 May, 1990 Presque Isle Co., MI)

3 Beulah "Emily" (b.6 June 1918 )

4 Elizabeth B. (b.1921 in Onaway)

5 Geraldine Mary (b. 16 May 1924 in Onaway)

6 Jessie Aileen (b.7 June 1926 in Onaway)

7 Barbara (b.16 July 1929 and died 23 April 1930 in Onaway)




Hugh A. Grandmason married Camile Rost, and worked as a security guard in Ona-
way. Hugh Grandmason died May 16, 1990. Hugh was named, like his his uncle Hugh Al-
bert Everingham who died of Typhoid fever in 1917, after grandpa Hugh King.


Page 111
---



full page of Mrs. Ethel Mary Grandmason's obituary,
photo of Adolphus Grandmason of Onaway,
and photo of Joseph & Ethel and their children at Onaway, MI.

photos used courtesy of Mary Kahkola.



Page 112