email us if you
want to reserve
your own copy,
ON CD!




MICHIGAN FAMILY BOOK: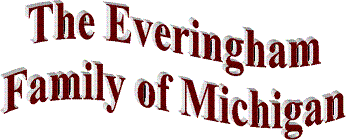 *** Available HERE FREE! ***
All of the text of this book is available on the
Everingham Family History Archives web site for FREE
(see links below)
*** CD & Paperback version also available for $ale ***


This 2006 edition book is HUGE and packed with family history, stories and 100's of photos. This book was printed for distribution to Michigan & related home town Libraries. Now it is available to everyone on CD (Book version SOLD OUT).
If you wish to view the whole book for your own genealogical research,
It should be available to view in the genealogy section!
This book was donated to the following Michigan libraries: (mouse over for address)





BUYING THE BOOK ON CD


The book is finished and has been distributed to many Michigan libraries as planned, the full INDEX of the book and text (minus photos), is included below.


$30 per copy of the 8.5" x 11" book.SOLD OUT
$10 per copy of the book on CD.
postage for any number of CD's is FREE
special rates for orders of 4 or more CDs.
send requests to:
K. Everingham
2836 Condensery Rd.
Sheridan, MI 48884 (USA)

fill out & PRINT this excel Order Form
---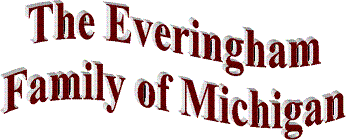 TABLE OF CONTENTS
OF THE FREE VERSION

Introduction  "understanding how people feel about research books"  		Page   7 
Origin of the name & place "Everingham"   					Page   9 
The Conquest of England in 1066 & the family link to nobility 	   		Pages  10-12 
Everingham Post Office in Everingham, Yorkshire, England 			Page   12 
A legend about the Everingham name dying out 					Page   13 
Why similarly spelled names may be related  					Page   14 
Some early Everingham's in America (1600's-1700`s) 				Pages  14-16 
The Wars that destroyed early North American records 				Page   17 
What are Loyalists, Patriots, Torries & Rebels? 				Page   17 
Family Chart of our first generation James Everingham 				Page   18 
The first well documented generation of Ira's Ancestors  			Pages  18  
First Generation and the Revolutionary War 					Page   19-23 
The 1st and 5th Battalion of the New Jersey volunteers & Joseph Barton  	Pages  20-21 
Separate Thoughts, Speculation, and Theories 					Pages  22-23 
A map of the layout of the United States in 1790   				Page   23 
Story of 3 Brothers immigrating to America from England   			Page   24 
Other Stories about our 1st generation James Everingham   			Pages  25-26 
The Children and Grandchildren of James Everingham of NJ & Canada 		Pages  27-31 
1876 Historical Atlas & family links in Crowland Twp, Welland County  		Page   29 
The Children of James Everingham (II) and Sally Brooks 				Pages  32-33 
The Curse of Cashmere, Mosa Township, Middlesex County, Ontario 		Pages  33-35 
Early Haldimand Co. and our Ancestor Captain John Dochstader   			Pages  35-37 
Haldimand County, Ontario, Canada 1880 Map  					Page   36 
More related families in Ontario, Canada 					Page   37 
The family of James Everingham (III) and Violet Burnham 			Pages  38-41 
The only known photo of James Everingham 					Page   38 
1879-1880 Historical Atlas of Brant County, Ontario 				Page   41 
Onondaga Township, Brant County, Ontario Canada  (with an 1880 Map)  		Pages  42-45 
The Native American Indian tribes of the Onondagas and the Mohawks 		Pages  42-43 
The importance of Hiawatha and the Iroquois Confederacy   			Page   43 
Onondaga Township, Brant County Plat Map with family names   			Page   44-45 
Our Everingham family migration map 						Page   46 
The earliest Everingham's of MICHIGAN   					Pages  47-54 
Henry Everingham of Iosco County, MI        family chart  (brother of Ira)  	Page   49 
Eugene Everingham of  Huron County, MI     family chart  (brother of Ira) 	Pages  49-52 
Other Michigan Everinghams 							Page   53 
The unrelated "Everham" family of Michigan 					Pages  55-56 
Chart of some of the known ancestors of Ira Everingham  			Page   58 
Photo of Ira with the Graves family, Onaway, MI  circa 1921 			Page   60 
A Family Facts Chart of Ira (children, parents, siblings, etc.)  		Page   61 
4th Generation, "all about Ira Everingham" 					Pages  57-63 
Theory and Fact about Ira's age   						Pages  62-63 
Photo of Ira & Louisa Everingham. circa 1907 					Page   63 
An early Arenac County Michigan Pioneer family   				Pages  64-69 
A descendant chart of the 5th Generation of Everinghams  			Page   70 
5th Generation,  Children of  "Ira Everingham and Louisa Norris"    		Pages  71-82 
The Stoner Family 								Pages  74-75 
The Graves Family 								Pages  77-78 
Tower, Forest Township, Cheboygan County, MI   					Pages  83-87
The Morgan Family    								Pages  82-87 
The Beehler Family   								Pages  85-87 
The family home town of Onaway, Presque Isle County, MI 			Pages  88-93 
1957 Plat Map of Allis Township, Presque Isle County  				Pages  94-95 
Lumber in Michigan and the Civilian Conservation Corps   			Pages  96-97 
6th Generation of Everinghams,                  Ira's Grandchildren  		Pages  98-112 
7th Generation of Everinghams  							Pages  113-132 
8th Generation of Everinghams  (names & photos only)  				Pages  133-135 
9th and 10th Generation and beyond, not included here. 
Montcalm County, Michigan   							Pages  136-140 
The Hale Family and the Michigan Cavalry   					Pages  129-130 
The Platte Family  								Pages  130-131 
The Stearns Family   								Pages  139-140 
The Lemon, Ostrander & Dell Families 						Pages  140-141 
Thoughts from the Author  							Pages  141-144 
 

BIBLIOGRAPHY  									Pages  147-149 
Everinghams in Business  							Page   151 
Census Data used in this book           (summary of Census data)  		Pages  152-165 
                                        Note: Census data is not indexed. 

INDEX__________________________________________________________________________Pages  166-181 
 

written by Kevin Everingham,