fact sources and writings about this individual:
1Information from Brenda Young
2Briggs Cemetery, Canborough Twp., Haldmand Co. Ontario
3Research of Debbie St.Louis sent Dec 2000 & 2001.
4Photo from Tom Farr, sent to Debbie 2001.
---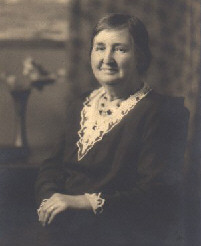 OBITUARY MRS. CELIA C. FARR3
Mrs. Celia Catherine Farr, formerly of Canboro Township, passed away at the home of her daughter, Mrs. Herbert Gilmore, 104 Louisa Street, St. Catharines Ontario, early Saturday morning, June 18th, 1955 after an illness of several months duration. Born in Canboro Township, 92 years ago, she was the last surviving member of the family of the late Hiram and Charlotte Everingham. At one time she was a valued member of Windecker Baptist Church. Her husband, Harley H. Farr predeceased her in 1929. Surviving Mrs. Farr are two sons, Aubury C. Farr of North East, Pa; Walter H. Farr of London; two daughters, Mrs. Herbert Gilmore (Stella) of St. Catharines and Mrs. William Geib (Beatrice) of Erie Pa; 16 grandchildren and 27 great grandchildren. Following the death of one daughter, Mrs Alberta Farr Fletcher, Mrs Farr raised the two remaining children, Mrs. Loney Wallace (edna) and Harley James Fletcher.
The funeral service, which was largely attended, was held at the Ballard Funeral Home, 315 Broad Street, Dunnville on Monday afternoon, June 20th, with Rev K.I. Cleator of Aavenue Road United Church, St. Catharines officiating assisted by Mr. W. Dale of the Church of Christ, St. Catharines. The active bearers were Rae, David Brown (Canfiled) Irvine Hartnett, William Gilmore, Wilfred Hoffman anbd Earl Michener. The floral pieces were numerous and beautiful and were carried by Robert James, Edwin Melick, Frank Doughty, Budd Carter and Warren Clark.. Interment was in Briggs Cemetery, Canboro Township,
Relatives and friends attended the funeral from St. Catharines, Lockport NY, Hamilton Ontario and Erie and Meadville, PA

Research of Kevin Everingham 2009;
1886 Ontario Birth Registration (#23, film 1845879) Aubery Crayton Farr, male, born 26 Feb 1886 at Canboro, Haldimand, Ontario, son of; Harley H. Farr & Cecelia Everningham.

1890 Ontario Birth info (C01779-7) Ally Pearl Farr, female, born 30 April 1890 at Canboro, Haldimand, Ontario, to; Harly Farr & Celia Catherine Everingham.

1900 Ontario Birth info (C04310-5) Stella E. Farr, female, born 11 Feb 1900 at Brant, Ontario, parents: Harley H. Farr & Celia Everingham.

1912 Ontario Vital Statistics (1912 cn14481) Alberta Fletcher, female, age 24, died 30 November 1912 at Canboro, Haldimand, Ontario, daughter of; Harley Hamilton Farr & Celia Everingham.