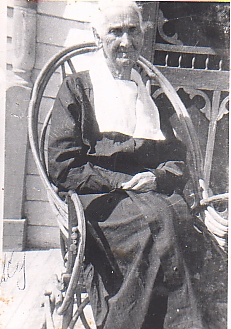 fact sources and writings about this individual:
1Information from Brenda Young
2Briggs Cemetery, Canborough Twp., Haldmand Co. Ontario
31851/2 Census Canborough Twp, Haldiman Co.:
"Charlotte was age 15, + siblings names"

Parents:
Christopher LYMBURNER b.1795 d.15 Nov 1854
Rebecca MELICK b.1799 d.1883.


Photo (right) is Charlotte Lymburner-Everingham
from Debbie St.Louis 2001.

Oldest child James Christopher Everingham was named after both Hiram's father and Charlotte's Father.