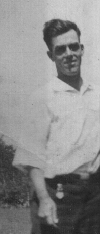 fact sources and writings about this individual:

1895 birth registration Huron Co. MI... Willard W. Graves, b.2 June 1895 at Winsor, Huron County, MI, parents: Shell Graves b.CAN,.. & Kate Graves b.CAN.

1Social Security Death Index shows last residence: Genesee, MI, and gives b.2 Jun 1895 ? d.Nov 1968 ?.

*Leora, widow of R. Dale Everingham and her daughter "Neva" gave the general information above (Verbal Reference July 1999)

Family lived at "Mt Rose" Near Flint, MI?
Photo (right) Willard Graves ----

Letter from Rosalie Cory (Willard's daughter) November, 2001;
My father's name was Willard Washington Graves. I am 4 months younger than Cliff (Cliff Everingham) I was born Nov. 17, 1917. Robet E. Graves that is buried with Sheldon H. Graves is the youngest of 10 children. He was 3 years old when he died. Between Clara and Willard, there were four girls who died within two weeks from Diphtheria. That information was from Aunt Ella.

Marriage Record: Willard W. GRAVES, age 21 yrs, b.1896 Huron Co., MI, Father: Sheldon H. Graves, Mother: Catherine Grogan, Bride: Charlotte A. Thomas, 18 yrs, b.1899 Bellaire, MI, Father Wm. A. Thomas, Mother: Clara C. Schoolcraft., Date of marriage; Feb 3, 1917 Flint, Genesee Co., MI (LDS Film of Genesee Co. Marriage Records, Film #2342720 Vol 2, Pg 116, Register#4610)
Thanks to the research of Doris Demet for finding this record.

research of Kevin Everingham:
1920 CENSUS Flint Genesee, MI (sheet 3, film#1820765)... Willard Graves 24 b.MI, married,... Charlotte 21, wife,.. Rosalia 2y1m, b.MI, daughter,... Clara Thomas 59, b.VT, mother-in-law, divorced.

1930 CENSUS Flint Genesee Co. MI (enDist 21, sheet 1A, family 5) Willard Graves 34, married, b.MI, parents b.CAN,..Charlotte 31, wife, b.MI, father born in VT, mother b.NY... Rosalie 12, daughter, b.MI,... Harold 5, son, b.MI,... Clara Thomas 70, mother-in-law, b.VT, parents b.CAN.

1940 CENSUS Vienna Twp. Genesee, MI (sheet 10B, fam#198) Willard Graves 44,.. Charlotte Graves 41,.. Harold Graves, 15, son,.. Clara C. Thomas 80, b.VT, mother-in-law.