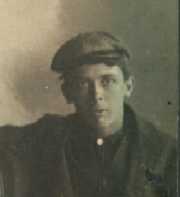 Young Frank Graves

fact sources and writings about this individual:

1910 Onaway census identifies Frank and Maude Graves, living close
to his sister Clara (Graves) Ervingham & husband Charles Ervingham., Herman Evans, father-in-law (age 67), widower, was also living with Frank & Maude.

*Leora, widow of R. Dale Everingham and her daughter "Neva" gave the general information above (Verbal Reference July 1999)

2SSDI Social Security Death Index: FRANK GRAVES, born 16 Jan 1888, died Jan 1972 last residence; (Atlanta, Montmorency, MI)

3Presque Isle County Marriage Record Pg.7 #38
license 19 June 1909, married same day in Onaway by Frank Blair, Baptist Minister, Witness: Mable & Laura Blair... Frank GRAVES, 21, resident of Onaway, MI, born in Bad Axe, MI, occ: Laborer, son of Sheldon GRAVES & Kate GROGAN, no prev. marriage.... Maude EVANS, 27 of Onaway, MI, born in Kawkawlin, Bay Co., occupation; domestic, daughter of Herman EVANS and Mary WEED, married 1 time previously.
Thanks to Barb Curtindale for finding this record.

1910 Death Registration Inez May Graves, b.1910 MI, d/o Frank Graves & Maud Evans,.. died 21 March 1910.

1914 Death Registration Arlene Pearl Graves, b.1914 MI, d.18 April 1914 at Allis township, Presque Isle County, MI, d/o Frank Graves & Maud Evans

1920 CENSUS Genesee County, MI ... Frank Graves 32,... Maud Graves 40,... Neva A. Graves 8.,.. Clifford Tucker 12 (relationship to head of household not given)

1930 CENSUS Loud, Montmorency, MI (enDist 6, Sheet 1B, family #13) ... Frank Graves 42, b.MI,.. Maude Graves 50, wife, b.MI.