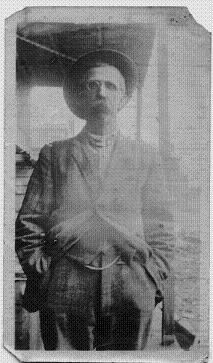 fact sources and writings about this individual:
information provided by: Marv Everingham 1999. from a small "Family Bible". + Info from Neva (Everingham) Springsteen 1999.
2Info from Family Bible of Edith Everingham daughter of R. Dale. Bible's written info by Clara J. Graves. Sheldon b.19 Apr 1858 Blemen, Ontario d. 22or27 Feb 1930 in Flint, MI
3"GRAVES" Children listed above as recalled by
Leora MORGAN-EVERINGHAM-STIERLEY verbal reference July 1999.
---
4Cedar Valley Cemetery, Mason Twp., Arenac County, MI Sheldon H. Graves b.19 Apr 1857 d.Feb 27, 1930. - Arenac co. Cemetery Inscriptons 1992 by Betty Brokoff Barringer.
---
5Letter from Rosalie Cory (Willard's daughter) November, 2001;
My father's name was Willard Washington Graves. Robet E. Graves that is buried with Sheldon H. Graves is the youngest of 10 children. He was 3 years old when he died. Between Clara and Willard, there were four girls who died within two weeks from Diphtheria. That information was from Aunt Ella.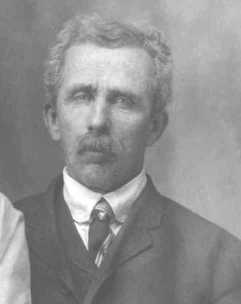 6Parents of Sheldon Graves found from the research of Concetta Franco in 2003. They were found living in Blenheim Township, Oxford County, Ontario in 1861. Sheldon was 3 years old. (age fits perfect) All family bible records note that Sheldon was born in "Blemen" Ontario... I believe this is Blenheim misspelled.
interesting exteded family:
1900 CENSUS Turner Township, Arenac Co. MI -- ED#0026, Sheet 5B transcribed by Kevin Everingham
house #93, Family #86 Sheldon Graves, b.April 1857 CAN, age 43, married 19y, family immigrated in 1857, occ: farmer,.. Katie A., Wife, b.Jan 1862 CAN, age 38, married 19 yrs, mother of 9, 5 living, family immigrated in 1864.,.. George S. son, b.Oct 1882 MI, age 17, Clara J., dau, b.Nov 1883 MI, age 16, Franklin, son, b. Jan 1888 MI, age 12, Willard W., son, b.June 1895 MI, age 4, Ella, dau, b.June 1897 MI, age 2.,... Haley Myrtle, servant, b.Mar 1883, 17,.. Cameron Platter, bro-in-law, b.June 1866, 34,... Peaten Layfaetter, grandfather, b.Feb 1816 CAN, 84, widower, married 62yrs. spellings may not be perfect, this is hard to read the handwriting and I have been unable to locate Peaton or Cameron in any other American or Canadian records. 2 homes away is "Richard & Elizabeth Wrathall (Katie's sister)"
1910 CENSUS Onaway, ward 1, Presque Isle, MI family #152, Page 7, Sheldon Graves, 52, Catherine, 48, Willard W., 14, Helen (should be Ella), 12.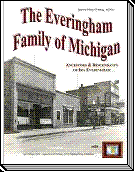 1920 CENSUS Flint, Genesee Co. MI,... Sheldon Graves 61, widowed, Ella Graves 22, daughter, single,... Delbert Princing 22, divorced, no relationship to head of household given.
1930 Genesee County Death Record (#945, GS film 1972703)... Sheldon Hall Graves, male, died 27 Feb 1930 at Flint, Genesee County, Michigan. Age 72, widowed, born 19 April 1857 in Canada. Mothers name: Rebecca Sipes.
see additional info on this family in the book: The Everingham Family of MI, (c)2006