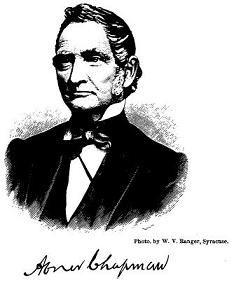 fact sources and writings about this individual:

1Information supplied by Ann J. Everingham.
2Onondago Co. NY census 1860
3Jeremiah Everingham Obituary.
4Research of Kevin Everingham;
Onondaga Centennial, Vol 1, 1896
..Town of Onondaga, Page 861 - "A temperance society was organized about 1836 and existed for more than 40 years, one of it's leading members and long-time president being Abner Chapman."... in 1835 he was also listed in the following manner: "Abner Chapman, Justice and School teacher."
History of Onondaga County New York, Prof W.W. Clayton 1878 see link for a Biography of Abner Chapman.

1900 Town of Onondaga, Onondaga Co. NY CENSUS SDist 12, EDist 74, Sheet 6A
#131/135 - Mary Chapman, head, born Aug 1827, age 72, no children, born NY,... Wm. Everingham, nephew, b. sept 1864, age 35, born NY, salesman.