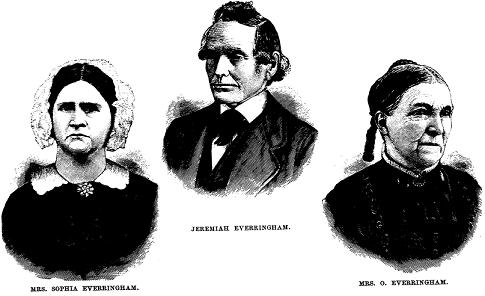 fact sources and writings about this individual:

1Info supplied by Ann J. Everingham & research of Kevin Everingham.

photo above is Jeremiah & wives from an artists rendering from the 1878 History of Onondaga, NY

2Lafayette Cemetery Onondaga Co. NY
3Information from Kimball Everingham
4NY, Lafayette deaths.
5Obituary, Syracuse Morning Standard, May 10, 1880. (found by Judy Lombard)

Research transcribed by Kevin Everingham of MI
1840 CENSUS Fabius, Onondaga, New York (Page 212)... lists Jeremiah Everingham.

1850 bought 200 acres on the "Seeley Flats" in Onondaga. (Ref: Obituary info 1880)
1850 Onondaga, Onondaga Co, NY Census (research of Kevin Everingham)
#632/654 - Jeremiah Everingham, 52, farmer, (real estate owned valued at an impressive 10500!), Sophie, 47, Mary 22, Charles, 20 farmer, Martha 17, Lucy 13 (or 15?), Nancy 12, Albert 8,... Ira Clark 20,... John Everingham 86, Millwright b.NJ, Everyone but John was noted as born in New York.

1860 CENSUS Town of Onondaga, Onondaga, New York (Page 125, family #965) ... Jeremiah Everingham 64, b.NY,.. Sophia 46or56?, b.NY,.. Mary 32, b.NY,.. Charles 29, b.NY.. Albert 19, b.NY.

1862 wife Sophia died
1868 married Olive, 2nd wife.
1870 CENSUS Onondaga, Onondaga, New York (Page 30, July 26, 1870 family #263) ... Jeremiah Everingham 70, b.NY, farmer, value of real estate 20,000, value of personal estate 8,000,.. Olive 58,.. Mary 36.

1873 Photo below sent from Linda Wise, May 2000.
Written on back of photo; "Mrs. Arthur Everingham, Nedrow N.Y. R?D No.1, Jeremiah Everingham homestead Near South Onondaga 1873" -- Arthur was Jeremiah's grandson. The boy in the photo near the oxen could be one of many grandchildren & may be Arthur's brother William born abt. 1864. At the time of this photo, Arthur was 3 years old, at the most. Arthur & William are sons of Albert.

1875 STATE CENSUS Onondaga, Onondaga County, NY (Pg.34, #344).. Jeremiah Evringham 77. b. Madison co., wood home - value 1500,.. Olive Evringham 63, b.Oneida Co., wife...

1880 CENSUS Onondaga, Onondaga, New York (Page 143A)... Olive Everingham 66, widowed, b.NY, parents b.Connecticut... Mary J. Chapman 52, b.NY, daughter,.. Betsey Wilcox 78, b.NY, other.

1889 Mercellus Observer, (south Onondaga section) Thursday, Feb 7, 1889 .... The village school is closed Tuesday noon on account of the small pox scare. Mrs. Jeremiah Everingham, an old lady living in this village, has been uncommonly smart for the past few weeks, so much so that her daughter, Mrs. Chapman who lives with her, thought it perfectly safe to leave her alone during her absence at Syracuse to-day. About noon she fell and broke both wrists. It was not until about four o'clock when Mrs. Everingham had succeeded in drawing herself to the door that opens to the road that Mr. Orr who was passing, saw her and went to her rescue. The fractures are serious ones.
---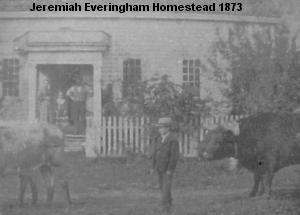 pg.297 of The Onondaga Centennial
Jerimiah, a native of Cazenovia, moved into the town of Pompey with his father, Jonathan, at the age of 2. Jonathan was a native of Connecticut, and one of the first settlers of the county. Jerimiah married Sophia French, and their children were William, Mary J, Charles, Marcy, Lucy, Nancy, and Albert.