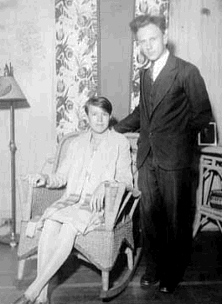 fact sources and writings about this individual:
1Information from Ann J. Everingham of CA
2Information from Tom Phillips of PA

Circa 1930 Photo from Tom Phillips 1999.
---
from a 5 page memoir written to her grandson: "Tom Phillips", Margery writes: "She remembers going down to Seaside Park, New Jersey as a young child to watch for one of her uncles, who had been shipwrecked just off shore. She remembers riding a (wooden) bicycle that her father had built for her older sister Rilla. She spent her summers at seaside park NJ, and graduated from Toms River High School and spent one year attending Normal School -the state Teacher College, in Glassboro NJ (now called Rowan College) studying to become a teacher."