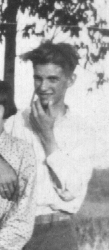 fact sources and writings about this individual:

photo right, Wesley Morgan visiting cousins in Tower, MI, 1920's. (from the family photos of Leora Morgan Everingham.)

Research of Kevin Everingham 1999-2014;

1928 Owosso Newspaper, Sept. 23, 1928... "An effort is being made to obtain a Carnegie medal for Wesley Morgan, a 16 year-old Benington Township youth, who a few weeks ago rescued Virginia Hinspeter, also of Bennington Township, from drowning in a flooded gravel pit on a farm in the area."

1930 CENSUS Bennington, Shiawassee, MI (Sheet 3B, family #63)... Millie Morgan 44, b.MI, Md crossed out widowed,.. Wesley Morgan 18, b.MI, son,.. James Morgan 12, b.MI, son,.. Lucele Morgan 10, b.MI, dau,.. Hazel Morgan 8, b.MI, dau,.. Carl Morgan 5, b.MI, son,.. Emma Jones 76, b.MI, mother. the next home is Mertle (Morgan) Osborn and her family.
1930 US CENSUS Owosso, Shiawassee, MI (Sheet 5B house #133) Joyce's family "Fred Bodary 39, (all b.MI),.. Emma Bodary 36, wife,.. Marian Bodary 17, dau,.. Joyce Bodary, 10, dau,.. Louisa Bodary 6, dau,.. Henry Kuse 46, bro-in-law." 2 houses away..(a probable brother of fred) David Bodary 43, & Nellie 39 with a large family.

1940 US CENSUS Owosso, Shiawassee County, MI (Sheet 2A, family #38)... "Wesley Morgan, 28, b.MI,.. Joyce Morgan 20, b.MI, wife,.. Carol Morgan 1, b.MI, dau,.. infant Morgan, b.MI, dau."
more circumstantial evidence; according to the 1984 Residency records of Owosso, MI, Hattie Morgan, wife of James (Wesley's brother), claims to be relatives of Wesley & Joyce Morgan.

1992 SSDI "Joyce A. Morgan, b.29 Dec 1919 MI, died, 2 July 1992 at Saginaw, MI, age 73."
1993 SSDI "Wesley G. Morgan, b.7 Oct 1911, died 18 Jan 1993 last known residence; Saginaw, Saginaw, MI., age 82. "

1990s Residency Records show "Joyce Morgan (b.29 Dec 1919) lived in Saginaw, MI in 1990's... also lists possible relatives as Wesley Gale Morgan."

I have photos of my grandmother and her cousin Wesley Morgan taken in the 1920's.