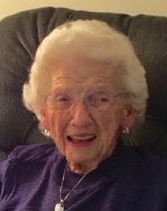 fact sources and writings about this individual:

Research of Kevin Everingham 1999-2014, 2015;
Photo from her obituary

1930 CENSUS Bennington, Shiawassee, MI (Sheet 3B, family #63)... Millie Morgan 44, b.MI, widowed,.. James Morgan 18, b.MI, son,.. Westley Morgan 12, b.MI, son,.. Lucele Morgan 10, b.MI, dau,.. Hazel Morgan 8, b.MI, dau,.. Carl Morgan 5, b.MI, son,.. Emma Jones 76, b.MI, mother.

? same Lucile ?
1940 CENSUS Saginaw, Saginaw, MI (Sheet 12A, family #252)... "Philip Hartman 49, b.MI, Julia Hartman 46, b.MI, wife,.. William Hartman 23, b.MI, son,.. Richard Hartman 11, b.MI, son,.. Lucile Morgan 20, b.MI, lodger, single, last residence; Shiawassee, MI. "

2015 (obituary) - Lucile M. Kopschitz, of Saginaw, Passed away Wednesday, December 9, 2015, at Cartwright Hospice, Saginaw at the age of 96. A Funeral Mass will be 11 a.m. Monday, December 14, 2015, at St. Michael Catholic Church, Maple Grove. Burial will follow at St. Michael Catholic Cemetery. Visitation will be 1-8 p.m. Sunday at Misiuk Funeral Home and from 10 a.m. Monday at the church until time of the Mass. A Prayer Service will be 7 pm Sunday at the funeral home.
Lucile was born in Bennington, MI on November 17, 1919, the daughter of John and Millie (Jones) Morgan. She married John Kopschitz at St. George Catholic Church, Saginaw on February 23, 1963. He preceded her in death on July 23, 2003. Lucile was a homemaker, beautician, and also worked for 16 years at Eaton Manufacturing, Saginaw.
Left to mourn her passing are her children, Robert (Gigi) Hanley of Saginaw, Janet (Michael) Key of Marietta, GA, James (Linda) Kopschitz of New Lothrop, Dick (Sherry) Kopschitz of Chesaning, Peggy Gross (Dave) of New Lothrop; 17 grandchildren; many great-grandchildren; and many nieces and nephews. She was also preceded in death by her daughter and son-in-law, Betty and Larry Devota; son-in-law, Fred Gross; grandson, Michael Devota; great-grandson, Jacob Devota; and all of her siblings.

2015 Layton Corners Cemetery, Saginaw, MI "Lucile M. Morgan Kopschitz (b.17 Nov 1919, d.9 Dec 2015)

information from Lucile's son Robert Hanley of Saginaw, MI, 2018... "Lucile lived with her mother and grandmother on Bennington road until she completed 8th grade at Bennington township school. She then moved to Saginaw to help her sister Myrtle with her children. Eventually she obtained her license as a cosmetologist. In 1940 she married Richard A. Hanley and had two children. They divorced in 1947 and she remained single until 1963 when she married John F. Kopschitz, a widower with four children; Betty, James, Richard, and Margaret. John died July 23, 2003 and Betty died Sept. 4, 2006."