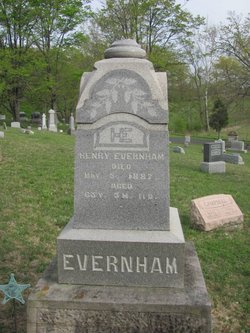 fact sources and writings about this individual:


1Family outline from the files of Sandra J. Evilsizer, of NM.
2Information organized by Tom Phillips, of PA.
3General information from the research files of Ann J. Everingham and Roger Harris.
4Information gathered from various sources & Internet by Kevin Everingham 2000-2004.
---
5Elizabeth M. CARMONY b.13 Sep 1827 PA, d.29 Oct 1897 Champaign County, Ohio., daughter of Joseph & Rebecca CARMONY.

Photo from "Arizona Kid" feel free to use any photos I've taken of your family's stones on your other projects.
---
NI52532] Champaign County Will Abstracts Book F pg 201
St Paris, probated 5/12/1887
Heirs- Elizabeth Evernham-widow; J Harrison Evernham, son, St paris; Angeline Abbott, Dau, Millerstown; W L Evernham, son, St Paris; J F Evernham, son, St Paris; E E Evernham, son, St Paris. Wife, all household goods, son in law Jesse Abbott, guardian of mute son J H Evernham. Sell 80 acre farm in Johnson Twp and divide with wife Elizabeth receiving 1/3. Son W L Evernham, exec. Witnes; Eason G Jones, D W White. Signed 4/27/1887
---
research of Kevin Everingham;
1850 CENSUS Johnson, Champaign, OH (family #238) ... Henry Everingham 28, b.NY/NJ?,.. Elizabeth 26, b.OH,.. John 5,.. Angeline 3,.. William L. 6m. (all children born in Ohio)

CAUTION Don't confuse this Henry (b.1821):
1861 For Civil War info on "another" Henry Evringham of OHIO, see this link.

1870 CENSUS Champaign, Ohio ... Henry Evringham 49, b.NJ,.. Elizabeth 46, b.OH,.. John 25, b.OH,.. William 20, b.OH,.. Joseph 12, b.OH,.. Ezekiel 4, b.OH,..... Elizabeth Shafer 15, b.OH.

1880 CENSUS St.Paris, Champaign, OH (Page 286B, #935) ... Henry Everingham 58,.. Elizabeth 56,.. Harrison 36,.. Joseph 22,.. Ellwood 15.

1886 St. Paris Era-Dispatch, Friday, Aug. 27, 1886... "Henry Huffman, sen., has had a petition drawn up, claiming $2,000 damages for slander and charging Henry Everingham as the slanderer. The facts of the case causing this petition to be drawn are these: Mr. Huffman recently sold his cooper shop, lot and tools to Mr. Everingham. Afterwords Mr. Everingham missed two of his drawing knives, which he had purchased with the shop, and accused Mr. Huffman of going into the shop and taking them. For this accusation, which Mr. Huffman says is false, he wants $2,000 damages. Both are well known citizens of this place."

1887 St Paris Newspaper Abstract
May 13, 1887

Henry Everingham was born November 24, 1821, in Trenton, NJ, and died at his home in St Paris, May 5, 1887, aged 65 years, 5 months, 11 days. He was married to Elizabeth Carmony on November 5, 1844. His funeral was held in the Reformed Church last Sabbath by Rev Daniel Taylor. Burial at Spring Grove Cemetery.

1897 Champaign OH Death record (pg 133) Elizabeth Everingham, female, born abt 1824 at Montgomery County Ohio, widowed, died October 29, 1897 at St. Paris, Champaign, Ohio, age 73, daughter of; Jos Carmony.