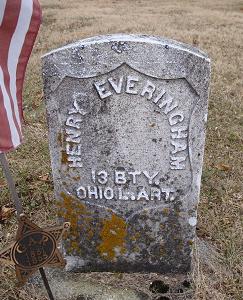 fact sources and writings about this individual:

Research timeline of Kevin Everingham of MI, 2011-2012;

1842 Miami County, OH Marriage Record (pg. 317, no 3701) Henry Everingham, married Saphronia Dolason, on November 13, 1842 at Miami, Ohio.

1850 CENSUS Jefferson, Logan County, Ohio (home/family #87, line 11) ... Henry Everingham 28, (b.~1822), b.NJ,.. Saphronia Everingham 22, b.OH,... Mary S. Everingham 7, b.OH,.. Wm. H. Everingham 2, b.OH

1861 Military Enlistment ... Private Henry Evringham, Union Soldier, (name misspelled again) age 39, enlisted November 18, 1861 in the 13th & 14th Independent Battery, Ohio light Artillery. (Film M552, Roll 32)

1864 Western Reserve Chronicle Newspaper, August 24, 1864... (Story from the 14th Ohio Battery) In the field, August 18, 1864, 2 miles in front of Atlanta, Ga.... Of the losses, I am sorry to announce the death of two of our brother soldiers, Corporal Jasin M. Abbey, and private Joseph Richards, who fell at their posts. Both were truly good, every ready for duty. Richards was a member of the 13rh battery and assigned to us immediately after the battle of Shiloh. The wounded were Corp. Aaron P. Cox of Mesopotamia, severe in the foot. Privates Seymour P. Jones of Ashtabula co. in leg, severe; Henry B. Lane, of Ashtabula Co, leg amputated; Warren S. Reynolds, leg and side severe. Corporal McCord was scratched on the knee by a passing ball, and private Henry Everingham had a furious cut through his hair, from forehead to the crown, which was certainly close enough.

The Day Dixie Died, The Battle of Atlanta, Gary Ecelbarger, Nov 2010 (320pgs)... "(Reference to the 14th Ohio Battery)... 2 Men killed and 6 injured, but 2 of the 6 were wounded but slightly and continued to do duty. One of those two, Henry Everingham, continued to man his gun after his wound, but could be forgiven if he was overly jittery about it. A rebel ball skimmed the top of his head, carrying away the hair and some scalp all the way from the forehead to th crown."

1870 CENSUS Zanesfield, Jefferson twp. Logan, OHIO ... Henry Evringham 48, carpenter, b.NJ,.. Saphrona 42, keeping house, b.OH,... Charles 16, b.OH,.. Amazona 13, f, b.OH,.. Oscar 12, m, b.OH,.. Henry 7, m, b.OH,.. Zorn 4, m, b.OH.

1880 Logan County Death Record (vol 1, pg 232) ... Sophronia Evringham, female, age 52, married, house keeper, born 1828 OH,.. died June 26, 1880 at Jefferson Township, Logan Co, OH.

1880 CENSUS Zanesfield, Logan County, OHIO (Page 43A)... Henry Evringham 59, b.NJ, widowed, carpenter,.. Charles 26, son, b.OH, single, laborer,.. Oscar 21, son, b.OH, single, occ: saddler,.. Henry 18, son, b.OH, single.

1880's A Mabelle Dunson & Minnie I. Dunson are listed as children of: Jacob L. Dunson & Amazona Everingham in Jefferson, Logan County, Ohio Marriage Records.

1890 Union veteran Census it should be of some interest that a "James M. Bushong" also of the 13th Ohio unit (and others) are listed with Henry Everingham as surviving soldiers from Bokescreek twp. Logan, Ohio. NOTE: probable sister "Rebecca" was married into the Bushong family.

with last wife here:
1900 CENSUS W.Mansfield & Ridgeway, Logan Co. OHIO (EnDist 106, Pg 8B, family 212) Henry Everingham b.July 1821 NJ, parents b.NJ, married 2 years,.. Arvilla Everingham, wife, b.March 1857 OH, parents b.OH, married 2 yrs, mother of 1 child(living).
1904 this Arvilla above died in 1904 OHIO death record (V2, pg61); Arvilla Everingham, married, housekeeper, b.1856 at W. Mansfield OHIO, died 20 May 1904 at West Mansfield, Logan, OH.
---
Information & photo added by Rob Weller 2008, to Find-a-grave web site;
Son of William & Mary Everingham. Married three times, 1st to Sophronia Donaldson November 13th 1842 in Miami County, Ohio. 2nd to two time widow Cynthia Wiley Austin Heisler and 3rd to widow Minerva Arvilla Line Monroe. Served in the Civil War with the 13th & 14th Ohio Batteries Light Artillery. Served at the Battle of Shiloh with the 13th Ohio Battery and later wounded at the Battle of Atlanta with the 14th Ohio Battery.

info from James Vanvoorhis 2012 "Find-a-grave" website.
Cynthia Wiley Everingham (1824-1892)- Daughter of David & Elizabeth Stanley Wiley. Married three times, 1st to Mark A Austin March 7th 1845 in Summit County, Ohio, 2nd marriage to Joseph Heisler August 16th 1877 in Union County, Ohio and 3rd marriage to Henry Everingham February 13th 1890 in Logan County, Ohio.
Minerva Arville Line Everingham (1857-1904) Daughter of William A & Rebecca Jane Keller Line. Married twice, 1st to Charles Monroe September 16th 1879 in Logan County, Ohio. 2nd marriage to Henry Everingham August 5th 1898 in Logan County, Ohio.