Percy Charles EVERINGHAM
pronounced: Percy ERVINGHAM
b.25 Nov 1913 Onaway, Presque Isle, MI
d.5 Mar 2002 Hospice House, Cheboygan, Cheboygan County, MI
Obituary | Burial; Hillcrest Cemetery
fact sources and writings about this individual:

Percy worked for the Road Commission for about 20 years, and Mildred taught school (mostly 2nd grade) for 25 years. She taught at Tower, Onaway, & N. Allis, She also got a teaching degree from Central Michigan University.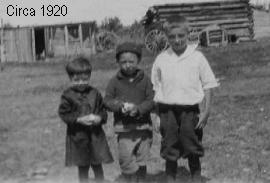 Information directly from Percy & Mildred Everingham 1999, Onaway,
Allis Twsp, Presque Isle, MI -- They further updated the information in March 2000.
Photo (right) Cousins playing circa 1920;
Rosalie Graves, Cliff Everingham, & Percy Everingham