fact sources and writings about this individual: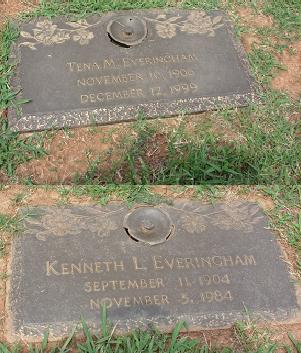 Information supplied by Percy and Mildred Everingham 1999.
"Lyle" and Tena moved to Adrian, MI in 1945.
Their daughter "Linda" was born in Adrian in 1946.
Wedding Notes: Pastor: Joseph L. Kennedy Witnesses: Sadie McGillis and Clarence Pace, both from Onaway City.
2Information from family researcher "Barbara Curtindale".
research of Kevin Everingham:
3#1006442 Arenac County, Michigan Civil Birth Records Vol.1 #1265 (Series of late recordings)
September 11, 1904 Kenneth Lyle Everingham, Male, White, Legitimate, born Turner Village, Father: George Everingham of Turner, born Canada, Mother: Margaret Rickard, of Turner, born S. Dakota. Recorded November 17, 1942.
1920 CENSUS Allis Twp. Presque Isle Co. MI,... George Everingham 39,... Margurite A. 35,... William G. 17,... Lyle 15,... lulu 13,... Percy 6.
1925 Presque Isle County MI marriage record (v8, #26) Lyle Ervingham 21, b.MI, s/o George Ervingham & ___ Rickard... & ... Tina Ervingham 19, b.MI d/o Jes Ervingham & __ King,... married 2 June 1925 Rogers City, Presque Isle, Michigan.
1930 CENSUS Mount Morris, Genesee Co., MI... Lyle K Everingham 25, b.MI, parents b.MI,... Tena 23, wife,.. Lyle A. 3,.. Robert G. 2,.. Donna R. 1