Joseph Gerrard PRENTLER
SFC, US ARMY - Ft. Custer Natnl Cemetery
"uncle Joe"
b.Tue 16 Jun 1936 Lansing, MI
d.24 Oct 1995 Onaway, Presque Isle Co. MI
Interment: Fort Custer National Cemetery


30 Oct, 1995 in Augusta, MI
fact sources and writings about this individual: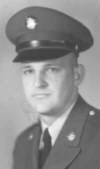 Joe in uniform.
date unknown

Funeral Thursday Oct 26 1995 Chagnon Funeral Home, Onaway, Presque Isle, Michigan.

Death Certificate #561 Presque Isle County, MI
Joseph Gerrard Prentler, b.16 June 1936 Lansing, MI, died October 24 1995 in Onaway, Presque Isle Co., MI. Occupation: Clerical, State/National Guards. Father: Joseph J Prentler, Mother: Erma Fedawa, Cause of Death: Myocordial Infarction (heart attack). Ancestry: German

2Social Security Death Index b.22 Oct 1905, d.23 Jan 1993.