fact sources and writings about this individual:
Page research by: Thomas G. Phillips, Kevin Everingham & William Malkin

1 Letter from Beverly Hughes

2 Thomas was listed in several sources as the original owner of the Toms River sawmill built between 1735 and 1740 that was burned by the British during the Revolutionary War. This is based upon a survey authorized by Thomas Everingham October 9, 1753 describing a piece of land between Pangburns Mill and Elisha Lawrence's Mill.

3 Thomas was described in the Records of Estrays, Monmouth County on Nov 23, 1737, Dec 20, 1737 and 1769 as the owner of a Plantation in Upper Freehold NJ. Others listed on the same page: Jacob Lain, Mebitabel(sp?) Lawrence, John Vaughn, Robert Mantgoe(?), Richard Horsfield, Jermiah Stilwil(?), Moses Robin Juner, John Lawrence, Richard Britton

4 Thomas is a member of the Freehold Baptist Church as described in 1751 and in various other documents as a member of the Upper Freehold Baptist Church (also known as the Old Yellow Church)which was formed from the Freehold Baptist Church.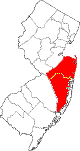 Monmouth
New Jersey

Early New Jersey
Everingham family
living in the
same area.
(see locations)

Elizabeth P. Everingham married James Clark of Windsor NJ

Transcribed research of Kevin Everingham of MI, 2005-2014;
Book; A History of Monmouth and Ocean Counties, by Edwin Salter, (422pgs) 1890... "Thomas Everingham and Henry Everingham were among tax payers in Upper Freehold, 1731, and William and Joseph Everingham in 1758. In what is now Ocean county, Everingham's saw mill on North branch of Toms River or Pine Brook is frequently referred to. In the Revolutionary war among soldiers from Monmouth were John, Nathaniel and Thomas Everingham.... (pg.100) Among the sawmills first erected in Ocean county may be mentioned the following; Everingham's sawmill, north branch Toms River, 1750."

1738 New Jersey Calendar of Wills (1730-1750), Page (269)... "July 3, 1738 David Johnston of Upper Freehold, Monmouth, will of. Wife, Mary. Children - David (eldest son, in Scotland), John, Hannah, Mary and James. Executors - son James, and James Grover of Middletown. Witnesses - Robert and William Imlay, James Debowe and Robert Montgomerie. Proved Oct.12 1738.../ ... Oct 7, 1738 Inventory of the estate (£242.13.0) indludes bonds of Isaac Stelle, Jacob Lane, William Imlay, Thomas Everingham, William Duglass, William Wilkin's bill. Made by James Cox, John Ashton, Robert Imlay and William Duglass. Additional inventory, (£1.8.0), made Dec 23, 1738 by Richard Fitz Randolph and Samuel Borrowe."

1746 New Jersey Colonial Documents (Page 258) Ref; estate of William Imlay..."April 10, 1741, Administrators Rebecca Imlay, the widow and Peter Imlay of Mansfield, Burlington County, Esquire. Robert Imlay of Upper Freehold, yeoman, fellow bondsmen.... Nov.5, 1746, Account of Stephen Pangburn and Rebecca his wife, late Rebecca Imlay, administratrix and Peter Imlay, administrator. Cash paid to; John Tantum, Ezekiel Furman, Samuel Woodward, Robert Imlay, William Watson, Safety Borden, Peter Imlay, Gab Stelle, Robert Steward, Zebulon Cook, Stephen Jones, Abiel Davis, Elizabeth Brown, John Shaw, William Meghee, Thomas Everinhgam, Moses Robins Junior, William Barker, William Tapscott, Joseph Borden, Joseph Forman, Elizabeth McMain, Jeremiah Stillwell, James Haywood."

Was this the same Thomas who had debt issues in 1771? See the court of common pleas record.