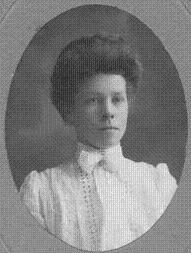 fact sources and writings about this individual:
Photo of Rachel Viele Everingham - from the family photos of Charlie & Clara Everingham... it's interesting to note that when Robert's brother George died in 1962, Rachel attended the funeral. 55 years after her first husband had died.

1Marriage: Records found by Barb Curtindale April 2002, Entry #9, pg 94 Arenac County return of Marriages March 31, 1901.
---
Robert J ERVINGHAM, age 23, laborer, born in Canada, son of Ira married March 8, 1901 in Cedar Valley, Arenac County, MI to Rachel VIELY (sic) "VIELE", age 18, domestic, dau of Geary (sic) VIELY & Jennie WRIGHT. Married by James E. Allen, Justice. Witness; George WARREN of Turner & Belle ERVINGHAM of Turner.

IGI Record shows Garry VIELE married Jennie WRIGHT May 19, 1881 in Bay, MI. (spelling ?) No record of any (VIELY) as Robert & Rachel's marriage record indicates, however, Iosco, Arenac and Bay County have records of (VIELE). This is most likely the correct spelling.

2Social Security Death Index:
Rachel Rhodes, birth & death info. Death date is Jan 15, which is the date of the obituary in the paper which clearly states that she died 2 days earlier.
3Iosco County Gazette, Tawas Paper 1908
Married in East Tawas, in the M.E. Church on Monday Oct. 5 by Reverend Thomas H. Martin, Mr. Geo E. Rhodes of Melvor and Mrs. Rachel Everingham of Turner.
4Obituary, Flint Journal January, 1970
Rachel P. Rhodes, 354 E. Gracelawn, age 85, died Tuesday, January 13, 1970 at Mc Lauren General Hospital. Funeral services at the Mt. Vernon Chapel, burial at Sunset Hills Cemetery.
51910 CENSUS Goodar Twp, Ogemaw Co, MI Research of Barb Curtindale
George Rhodes, 28, laborer Rail Road., - Rachel, wife, 25, - Retta, step-dau, 8, - Ethel, step dau, 6, Robert Rhodes, brother, 22, Jay Viele, bro-in-law, 14?, + one boarder living with them.
61920 CENSUS Flint, Genesee Co, MI Research of Barb Curtindale
Page 2B/3B, Family #52, George Rhodes, 38, proprietor Trucking Co., Rachel, wife, 34, Loretta Everingham, daughter, 18, Ethel Everingham, daughter, 16, - Gwendolyn Rhodes, daughter, 7.

7Rachel's parents names, and sibling information from Pat Viele, 2003.

--- research of Kevin Everingham, 2012 ---
1940 CENSUS Ward 1, City of Flint, Flint twp., Genesee County, MI (sheet 2B, family #42)... George W. Peters 40, b.MI,.. Ethel E. Peters 36, b.MI, wife,.. Donald J. Peters 13, b.MI,.. Rachel P. Rhodes 56, b.MI, mother-in-law,.. Gwendolyn J. Rhodes 27, b.MI, sister-in-law.