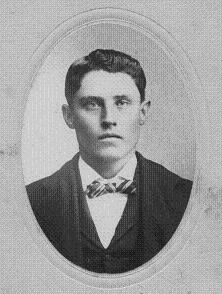 fact sources and writings about this individual:
Photo (right) Robert circa 1890's

(1) Presque Isle county deaths, 1871-1918 Vol #1, Page 167, #28 Robert J. Everingham, d.10 Oct 1907, age 27years, 9months, 20days. Cause: Typhoid Fever. Parents- Ira Everingham, Louisa Norris. marital status: "Married" It wasn't until 1909 when American's perfected a typhoid vaccine for it's military and that wasn't released to the public until 1914. The first serious treatment beyond general antibiotics for typhoid wasn't developed in America until 1948.

2Arenac County MI Cemetery Inscriptions, P.283 Cedar Valley Cemetery Row 2, Sec A. "Everingham, Robert J." Dec 21, 1878 - Oct 10, 1907. Information sent from Greg Knopp Dec 2000, Arenac County Web Site.

3Family bible records list Robert's date of birth as Dec 21, 1879., I believe the date is 1876 or 77 based on the 1881 CENSUS of Onondaga, Ontario which shows him age 4., see his sister's (Emma) date of birth. It's important to know that his sister was born in July of 1878, so since Rob was born in December, 1876 seems the most logical year.

4Marriage: Records found by Barb Curtindale April 2002, Entry #9, pg 94 Arenac County return of Marriages March 31, 1901.
---
Robert J ERVINGHAM, age 23, laborer, born in Canada, son of Ira married March 8, 1901 in Cedar Valley, Arenac County, MI to Rachel VIELY (sic) "VIELE", age 18, domestic, dau of Geary (sic) VIELY & Jennie WRIGHT. Married by James E. Allen, Justice. Witness; George WARREN of Turner & Belle ERVINGHAM of Turner.

IGI Record shows Garry VIELE married Jennie WRIGHT May 19, 1881 in Bay, MI. (spelling ?) No record of any (VIELY) as Robert & Rachel's marriage record indicates, however, Iosco, Arenac and Bay County have records of (VIELE). This is most likely the correct spelling.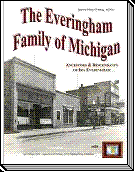 ---
Rachels Parents; (cemetery)

see additional info on this family in the book: The Everingham Family of MI, (c)2006