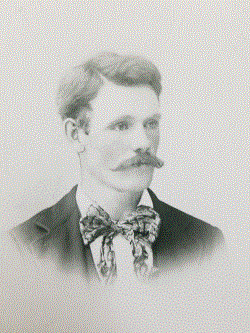 fact sources and writings about this individual:
info from Ann J Everingham 1999

2Info from Grant & Marge Hayes per William's daughter Elsie Minnick.
3Information from; Edna Parrott; Elsie Minnick, Beth Rau gathered by Grant & Marge Hayes, sent to the family web site, Nov 2003.
4Social Security Death Index
51930 US CENSUS William J. Everingham, 58, married 27 yrs, Telephone Co. Installer, lives in Santa Anita Precinct 3, Pasadena Twp. CA.
---
Photo - William "Will" Joseph Everingham taken about 1890 in Waterloo, Iowa from a photo sent to his sister Sadie Everingham Bricker in Moore, MT. Photo copied & sent to the web site from Grant & Marge Hayes 2003.