.

Family DNA Project
Deoxyribonucleic acid is the chemical inside the nucleus of all cells that carries the genetic instructions for making living organisms



Imagine if we could find absolute proof that some of our family groups are related!


For starters, let me make it clear... I am not an expert on DNA. I am very interested in finding if we have real connections between all of the Everingham groups out there, but I am only beginning to look at how DNA testing works.

Each person has 23 pairs of chromosomes, a pair from their father and a collateral pair from the mother that combine in each cells nucleus - to develop into a baby. One pair of chromosomes, the X from the mother and Y from the father, determine the sex of a child. If the baby has an X and Y chromosome it will become a male, and if it has two XX chromosomes, it will be a female.
Geneticists have decoded the whole human genome of 46 chromosomes and have found that there are parts of the Y chromosome that remain unchanged, unmutated, or non-recombinant (NRY) for many tens of generations. This male NRY DNA is passed from father to son to grandson, to each great grandson in each ensuing generation. As hard as it is to immagine, the NRY of the seventh great grandson is esentially identical to the same NRY of his original American male settler. This NRY part of the Y chromosome can be chemically tested at pre-determined locations, or "loci", to count the number of repetitions of the 4 base pairs (cytosine, guanine, adenine, thymine) or "allele markers". Each male has a distinctive number set of repetitive NRY markers that can distinguish them from all other males from other non-related families. These markers also can be used to link each male grandson directly back to his immigrant great-grandfather that lived hundreds of years ago!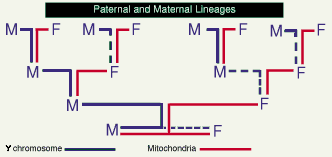 Today there is another way to test for DNA heritage. Also in every body cell, there are small energy-producing nodules called mitochondria that we inherit from our mothers. Each of these mitochondria have a distinctive set of non-recombinant DNA (mtDNA) that is inherited from our earliest known great grandmother. The chart above shows how these two ways of determining lineage are traced for Males and Females.

But PLEASE don't expect DNA to tell you about specific ancestor groups! It is an assortment of genetic sequences that have been inherited from MANY different ancestors in small bits & pieces. You double your number of ancestors with every generation. Going back only ten generations (between 200 and 300 years) in your genealogy, you have 1024 ancestors.

If you go back far enough, each of us has more ancestors than we have sections of DNA. This means that there are many ancestors from whom we have inherited NO DNA, so a map of your ancestry is not as accurate as most people think. This type of DNA testing is simply not the same as DNA testing used in court cases.






.
.
.
.
.
.