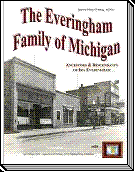 fact sources and writings about this individual:


Research of Kevin Everingham, 1999-2011
Esther lived in Saginaw, MI
Fred's Obituary in The Everingham Family of MI, (c)2006


"Esther Violet was born July 10, 1884. She married Fred Leonard Nelson who was born in Chicago, September 29, 1888. Fred died in 1949. Esther lived in Saginaw. Her middle name was after her grandmother, Violet (Burnham) Everingham."
1919 Ingham County, MI marriage registration.... Fredrick Nelson, 32, of Saginaw, occ: Machinist, s/o Lars Nelson & Laura Utgan.... Esther Evingham, 34, of Lansing, occ: stenographer, d/o Eugene D. & Harriett Getty... both were single, no previous marriages,... married 8 Nov 1919 in Lansing, Ingham, MI.... W.E. Doty, clergyman... witnesses: Mary Andrews of Lansing & Fanny Doty of Lansing.
1920 CENSUS Saginaw, Michigan... Fred Nelson 31, b.IL, married,... Esther Nelson 35, b.MI, wife.
1930 CENSUS Saginaw, Saginaw Co. MI (enDist 35, page 23A, family #35) Fred Nelson 40 b.IL, married, parents b.Norway,.... Esther Nelson 45, b.MI father b.NY, mother b.MI, wife.