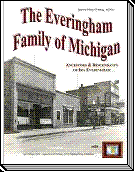 fact sources and writings about this individual:




Florence's Obituary in The Everingham Family of MI, (c)2006


and other details about this family. NOTE: William's date of birth was recorded incorrectly in this book. It was done prior to finding the birth registration and death info, and was based on family tree info.
---
Research of Kevin Everingham of MI, 1998-2013;
1892 Birth Registration, Huron County, pg.574, #534 (see actual county Log)... William Ramon Everingham originally recorded "Ervingham" then crossed out. born ___ 5, 1892 in Bad Axe, Huron, MI. month torn off of county register page, it is clearly May prior to his name, and July after his name so could be May, June, or July. What text is left appears to be the end of June. ... son of Eugene Everingham b.CAN, and Harriet Getty, b.MI.

21910 Census Huron Co,MI Research of Kevin Everingham 2002;
Living at East Sand Beach Ave. as a boarder with many others, William Everingham, age 19, single, born in MI, Parent born in MI. no occupation given.

1916 Huron County, Michigan Marriage Record (v2 pg 386, rn162) William Ramon Everingham 24, b.MI, s/o Eugene & __ Getty,... Florence Reinette Kent 21, b.MI, d/o George & ____ (Clarence?) Kent,.. married 30 Aug 1916 at Kinde, Huron, MI
1916 Arms and the Man, Vol.60, National Rifle Association of America, 1916... "W.R. Everingham, Kinde, MI."

1917 WWI Draft Registration #36,.. William Ramon Everingham, 25, of Kinde, MI, b.June 5, 1892 at Bad Axe, MI., occ: Assistant Cashier, banking at Frank W. Hubbard & co., Kinde, MI., tall, slender, blue eyes, light brown hair., signed at Huron County, MI, June 5, 1917.

21920 Census Dwight Township, Huron Co,MI Research of Kevin Everingham 2002;
January 3rd, 1920, Sheet 2A; Everingham, William, age 27, born in Michigan, Father born in Canada, Mother born in Michigan, occupation; Cashier in a Bank., Florence, wife, age 24, born in MI, Elizabeth, daughter, age 2.

1930 CENSUS Dwight, Huron, MI (EnDist 11, Sheet 1A, Family #4, line 12) William R. Everingham 37,.. Florence 34,.. Elizabeth 12,.. Lois 9,.. Charlotte 8,.. F.Adelaide 5,.. Aileen 1

1932 Transactions of the Grand Lodge of Free and Accepted Masons of the State of Michigan, 1932... "Cass Lodge No.219 - William R. Everingham, W.M."

1942 WWII Draft Registration #2949... Wm. Ramon Everingham of Kinde, Huron, MI..age 49, born June 5, 1892 at Bad Axe, MI, person who will know your address; Lois Everingham, Kinde, MI,.. employer; Kinde State Bank.

1946 State Banking Department annual report, Lansing, MI, 1946..."Kinde State Bank, Kinde, organized July 27, 1912,.. W.R. Everingham, President, Lois Everingham, assistant Cashier... Directors: Jos. N. Rankin, W.R. Everingham, James L. Burgess, Herbert A. Luecke, Lois Everingham."

1949 Cass City Chronicle, Jan 14, 1949... William is listed among board of directors for Hubbard State Bank, Bad Axe, MI... In the Michigan Manufacturer and Financial Record (Vol 83-84) also published 1949, W.R. Everingham is listed as President of Kinde State Bank.

1951 Michigan Investor, Vol.49, Contractor Pbl Co. 1951... "William R. Everingham, 59, president of the Kinde State Bank, died June 10 in Hubbard Memorial Hospital after an illness of five days of heart disease. He was taken ill on his 59th birthday. Mr. Everingham was born June 5, 1892 in Bad Axe, son of the late Eugene and Harriet Everingham...."
1951 Huron County Death Cert.#01509 ... William Ramon Everingham, 59, married, b.June 5, 1892 at Bad Axe, MI, s/o Eugene Everingham & Harriet Getty,.. died 10 June 1951 at Bad Axe, Huron County, Michigan.

More about this family from a Letter from Jeremy Goldsworthy 2017