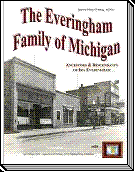 fact sources and writings about this individual:



information gathered indirectly from: Kathryn Bell's family info, Dec 1997.
Henry's Obituary in The Everingham Family of MI, (c)2006

---
21900 Census Port Austin, Huron Co,MI Research of Kevin Everingham 2002;
Wright, Herbert age 39, b.1861 NY, married 18 years, Clara age 39?, b 1861? PA, married 18 years, Bert, 17 b.1883 PA, Minnie, 15, b.1885 PA, Leo? age 9, b.1891 in Michigan.

1917 Huron County, Michigan Marriage Record (V2, Pg167, rn5280) Henry J. Everingham 31, born in Huron County, MI, s/o Eugene & Harriet Frances Everingham,... & Minnie Wright 32, born in Pennsylvania, d/o Herbert Wright & __ Kellogg... married 21 July 1917 at Flint, Genessee, Michigan.

31920 Census City of Flint, Genesee Co.,MI Research of Barb Curtindale March 2002;
Henry James Everingham b. MI,(b.1885) occ. assembly in Auto Factory age 35, A. Minnie b. Pennsylvania age 35 no children, address 511 Genesee St. Flint

research of Kevin Everingham, 2011;
1930 CENSUS Flint, Genessee, MI (EnDist 65, Sheet 9B, family 230, line 80)
Henry Everingham 44, born in MI, father born in CAN, mother b.MI,.. Minnie A. 44, b.PA, wife, parents born in NY.

research of Kevin Everingham, 2012;
1940 CENSUS Flint, Genessee, MI (EnDist 85-30, Sheet 61B, family 323)
Minnie Everingham 55, born in PA, widowed, "living alone". lived in same place in 1935.
---
WWI Draft Registration