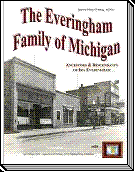 fact sources and writings about this individual:


Much of this info from Roger Harris of Canada.
More info on this family found in the book; The Everingham Family of MI
NOTE: James & Sally were not a Michigan family but many of their descendants migrated to Michigan.
2other info on this page, from records of Esther Summers sent by Cheryl (dell) Kountourgiannis

research of Kevin Everingham: 3History of Niagara County, NY 1878
In 1806, inhabitants along the Niagara frontier were Augustus Porter, James Everingham, Jesse Ware, William Miller, William Howell, Stephen Hopkins, Philemon Baldwin, Joshua Fairbanks, Joseph Howell, Earastus Parks, Isaac Colt, James Murray...
During the year 1807, the following people settled at the falls: Adoram Everingham, a miller; John M. Stoughton, a cloth-dresser; Joshua Fairchilds who became the first tavern-keeper; and Jacob Hovey, a carpenter.

1921 Lockport Union Sun and Journal 100th Anniversary Edition, 1921... PIONEERS WHO BLAZED NIAGARA'S EARLY TRAILS "... Of the settlers on the Mile Strip, I have gleaned the following list of those who were there in.. 1806 At Cayuga Creek - Big Smith, At Schlosser - Augustus Porter, Jesse Ware, James Everingham. Between the Falls and Lewiston - William Miller, William Howell, Joseph Howell, James Murray, Jacob Townsend, Stephen Hopkins, Philomen Baldwin, Isaac Colt, Erastus Parks, Joseph Hewett. "