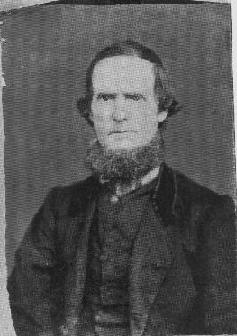 James Everingham ~1818-1884

fact sources and writings about this individual:


James' birth/death records from Ontario vital statistics, certificate #1383/84.
wife: "Violet" was the daughter of Lyman BURNHAM and Catherine DOCHSTADER.

1851 Census, Dunn Twsp, Haldimand Co. (dist 109, Page 1, lines 41-48), they (James & Violet) had Lucretia & Selista "James" older brother's children living with them., and James 5, b.CAN, Ira 3, b.U.S, Adoram 1, b.CAN, and Hiram, age 24 "James brother" was also living with them.

1861 Census, Canboro, Haldimand, Ontario (Sheet 28, Lines 22-29) ... J. Everingham 40, male,.. V. Everingham 38, female,,.. J. Everingham 12, male,.. I. Everingham 11, male,.. D. Everingham 9, male, sometimes listed as "Doram", A. Everingham 7, female,.. W. Everingham 5, male,.. V. Everingham 3, female.

1871 Census record: lived on 4 acres on Lot 44, Conc 3, Ont. Record shows James as age 57, born in the U.S., widowed.

4Photo of James Everingham found among the papers of his daughter Lucy Sarah Davis. (child #5 above) Family say that he went by "Earl" which was not his given name... possibly a middle name or nik-name? Photo Sent to the family web site 2003 by Donald Danskin of Biggar, Saskatchewan, a descendant of Lucy.
---
see additional info on this family in the book: The Everingham Family of MI, (c)2006