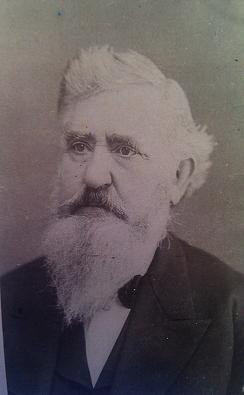 fact sources and writings about this individual:


Occupation: Baptist Preacher
Burial: Sandusky Cemetery, Freedom twp. Cattaraugus, New York.
Marker Stone: "Rev. J.S.Everingham"
Jane M. "wife" (b.18 May 1811 d.7 Apr 1874)
Mary "wife" (b.1824 d.1904)

photo right is John Stoughton Everingham, photo sent by Helen (Hughes) Ballard of CA, 2008

For more information from IGI file from "Kimball Everigham", visit familysearch
More information from Kimball Everingham:
John Stoughton Everingham is still single and not located in 1830 (though known to have been in Wayne County about that time), but:
1840 U.S. Federal Census of Wayne County, New York, 10/11 (Butler town), John S. Everingham household
1850 U.S. Federal Census of Oswego County, New York, 455/228A (town of Richland), dwelling 96, family 96, John S. Everingham household.
1885 Geneva Daily Gazette, July 3, 1885 (pg 3) "Rev J.S. Everingham, who died at Sandusky, N.Y. June 10th, in his 76th year, was born at Niagara Falls. In early life he moved to Geneva, N.Y., where his young manhood was divided between hard physical labor and deep study of the Bible. The beauty and power of God's word filled his mind, while God's Spirit spoke to his soul saying Feed my sheep. Though not a graduate of the higher schools he was a student, making himself familiar with sciences and mental and moral philosophy. With intellect strong and quick, with a soul noble and fearless, with a conscience tender and simple as a child's, and with a heart whose love embraced the whole universe, he was well equipped for the Master's service. He labored acceptably at South Richland, Red Creek, Ontario Centre and Sodus Centre, and also about six years at Sandusky, N.Y. which was his later pastorate. The wife of the deceased was a sister of the late Robert Bronson of Geneva, and an aunt of Mrs. C.H. Mead."

Letter written by John Judson Everingham 1939 answering questions about his father Reverend John Stoughton Everingham & the Everingham family history for a Mrs. Hughes of El Dorado Co. California.