Jeremiah EVERINGHAM
AKA "Jerry"
b.abt July 5, 1821 NY
d.27 Jan 1845 Onondaga, NY
died at age 23y, 6m, 22d
fact sources and writings about this individual: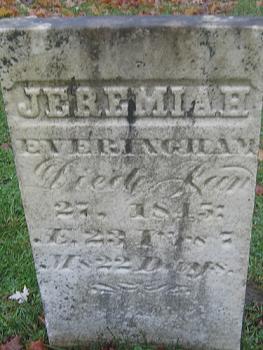 1Research of Kevin Everingham, 1999-2013.

1830 CENSUS Manlius, Onondaga, New York ... lists Sabrina Denny as head of household. This was her married name after her first husband had died.

?1842 Of possible interest is the fact that at the time that Saloma Denny married Walter Everingham, her mother Sabrina Denny was married to one Jeremiah Everingham. According to another record abstracted by the Onondaga Historical Society from the Onondaga Standard of June 15, 1842 Evingham, Jeremiah Married in Manlius, on the evening of the 2nd inst. by Rev. W. Bailey, Mr. Jeremiah Evingham to Miss Sabrina Goodfellow, all of Manlius.

1845 "Death of Jerry Sr."... Fayetteville Cemetery, Fayetteville, Onondaga, NY ... (headstone reads) Jeremiah Everingham, died Jan 27, 1845... cemetery records show: died at age 23 years, 6 months, 22 days. This means he was born about the middle of 1821.

?1880 One more clue is the 1880 Census, it shows a Jerry & Kate Everingham living in Manlius, NY with son Millard... Jerry Everingham's death record in 1920 shows his parents as: Jerry & Sabrina.. Also living with them in 1880 was a Jasper Goodfellow!
Also of interest: A Jasper Goodfellow is buried at Fayetteville Cemetery (same place as Jerry Everingham & Saloma Denny Everingham), Jasper was 57 when he died October 22, 1912 and is listed as the son of John Goodfellow & Abbie Fulmer. John & Abbie are also buried at Fayetteville.