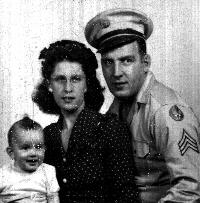 Richard pictured with first wife "Muriel" and first son Ron ~1945/6.

fact sources and writings about this individual:

St. Mary's Church Parish records Westphalia, MI:
"Friends and relatives gathered at Bremen, Germany and set sail for America on 26 Aug 1836, landing at New York Harbor 3 Oct 1836. They then sailed to Detroit via the Erie Canal. Eberhard Platte age 39, settled in Lyons, MI until 1843, when he bought 45 acres in Wesphalia, MI"

__Platte Generation_____Spouse__
Eberhard and Theresia BALTES son,
(Ferdinand and Maria SNITGEN)'s son,
(Eberhard and Mary POHL)'s son,
(Louis and Sophie TRIERWEILER)-Richard's parents.