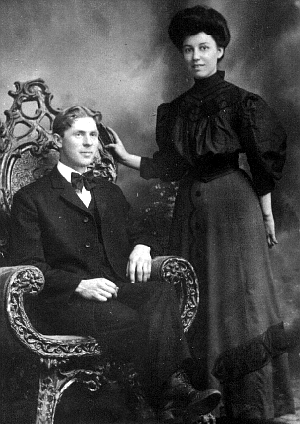 fact sources and writings about this individual:

Verbally - July 1999, Leora recalled her Grandmother's Strong Irish accent'.


photo:
William "Bill" Morgan & Gertrude in 1908. -


Marv Everingham (Leora's son) says that Grandpa "Bill Morgan" harness raced. Marv later raced stock cars in the 1970s, but not as much as his brother "Gene Everingham" who raced stock cars or sponsered cars his whole life, and so did some other descendants from the "Morgan" family.
---
CENSUS, Owosso, Shiawassee County, MI April 27, 1910;
William Morgan age 27, Gertrude age 20, Floyd age 4/12. Also living with them were William's parents; Joseph age 55, and Sarah age 50.

1914 Hillcrest Cemetery, Onaway, Presque Isle, MI... Josephine Morgan, b.28 Oct 1913, d.29 Oct 1914, Onaway, MI.

CENSUS, Tower Village, Forest Township, Cheboygan Co. MI, Jan 23rd, 1920;
William Morgan age 37, Gertrude Morgan age 35, owned their home. children: Floyd age 10, Laura "Leora" age 8, Hellen age 4, Joseph age 2. Living next door (same census): Joseph Morgan age 65, Sarah Morgan age 59. Joseph and William both worked at a factory.

1930 CENSUS, Woodhull Twp., Shiawassee Co. MI -- William J. Morgan 47,.. Gertrude D. 41,.. Floyd A. 20,.. Helen L. 15,.. Annie H. 9,.. William H. 4.

1940 CENSUS, Forest Twp,, Cheboygan Co., MI (May 1940) Sheet 4B -- William Morgan 57, laborer - Road Construction, highest grade completed 4,.. Gertrude, wife, 51, highest grade completed 6,.. William, son, 14, highest grade completed 8,.. all born in Michigan.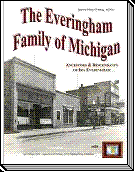 see additional info on the Morgan family and Tower, MI, in the book: The Everingham Family of MI, (c)2006