fact sources and writings about this individual:


About the Rebecca Everingham Steamboat

In 1861 William M. Wadley was appointed Confederate superintendent of the railroads and in 1864 superintendent of railroad car work. After the civil war, the family moved to Georgia where William became the head of the Georgia Central Railroad in 1866. In 1873 the family moved to a large plantation, "Great Hill Place" near Bolingbroke, Monroe County, Georgia. Daughter Sarah Wadley remained there her whole life, she died December 7, 1920.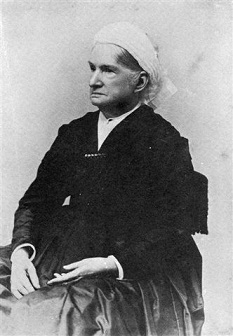 Rebecca Everingham Wadley
exact date unknown

Daughter Sarah's diary: Entries during the war describe reactions to war news; life in the vicinity of Monroe, Oakland, and Homer, La., including comments on freedmen and federal troops; and some activities of Sarah's father, William Morrill Wadley, who managed the Vicksburg, Shreveport and Texas Railroad and served as Confederate superintendent of railroads. After the war, there are scattered entries, written mostly while living in Georgia, chiefly concerning family matters. One of the diary volumes includes miscellaneous accounts of William Morrill Wadley in Georgia, 1849-1850. Miscellaneous papers include three items relating to the Ladies' Aid Society of Monroe during the Civil War; a letter, 1869, from Sarah Wadley to her mother, Rebecca, describing a meeting with Robert E. Lee in Lexington, Va.

By some accounts, William Morrill Wadley was born November 12, 1813 in Brentwood New Hampshire, and died August 10 1882 in Saratoga NY. He was the son of Dole Wadley (Wadleigh) and Sarah Colcord. William Wadley married Rebecca Barnard Everingham (May 12, 1819 - June 4, 1905), daughter of John and Sarah Weber Barnard Everingham, on November 12, 1840. They had nine children, William Oconius (1841-?), Sarah Lois (1844-1920), John Dole (1846-1846), Mary Millen (1848-?), Rebecca Everingham (1850-?), unnamed daughter (1852-1852), Loring Reynolds (1853-?), George Dole (1857-?), John Everingham (1860-?). The source used to compile this biographical note was "A Brief Record of the Life of William M. Wadley" by Sarah Lois Wadley (1906).

1920 Death Certificate, Monroe County, Georgia ... Sarah Wadley died December 7, 1920 at Bolingbucke, Monroe, GA, age 76y, 12d,.. born Nov 26, 1844 at New Hampshire, daughter of; William Wadley & Everingham.