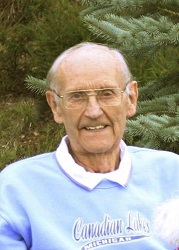 fact sources and writings about this individual:
Research of Kevin Everingham of MI 1999 & 2018 (photo of William from his obituary)

2018 OBITUARY, STANWOOD, MI -- William "Bill" R. Everingham, 85, of Stanwood, passed away March 6, 2018, at Spectrum Health Big Rapids Hospital. A visitation will take place from 1 to 2 p.m. on Monday, March 12, followed by burial in Mount Hope Cemetery, Mecosta.

Bill was born Dec. 30, 1932, the son of William and Florence (Kent) Everingham. After he graduated high school, Bill joined the U.S. Army, and proudly served his country for four years as a medic. After being honorably discharged from the Army, he took a job at General Motors. He continued working for them as an engineer in product development until his retirement. He enjoyed golfing at Canadian Lakes and in Florida during the winter. He enjoyed helping others. He was a caring, giving, loving and devoted husband, father, grandfather, brother, uncle and friend.

Bill will be greatly missed by his loving wife, Betty Frye; children, Daniel (Lore) Everingham and Laura Anne (Timothy) Metiva; step-children, Lawrence (Sharon) Frye, Kevin (Donna) Frye and Laura Ann (James) Veldhuis; sister, Katherine (Kit) Tamblyn; grandchildren, Joshua and Joseph Metiva; step-grandchildren, Blake and Blaine Veldhuis, Kevin and Kristin Frye, Joshua Frye, and Tracy Nester; great-granddaughter, Ellianna Nester; and many nieces and nephews. He will be especially missed by Willow and Bella, the toy poodles he and Betty adopted and made part of their family. He was preceded in death by his parents and four sisters.