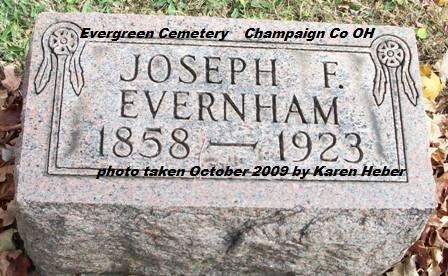 fact sources and writings about this individual:


1Family outline from the files of Sandra J. Evilsizer, of NM.
2Information organized by Tom Phillips, of PA.
3General information from the research files of Ann J. Everingham and Roger Harris.
4according to 1880 CENSUS of St. Paris, Champaign, Ohio, Joseph was a Painter.
5Cemetery Record from Karen Heber 2010.

Research of Kevin Everingham of MI 2014
1928 Champaign County Marriage Record ... Charles Merz, b.Columbus, OH, s/o Peter & Elizabeth Merz, married June 7, 1928 at Champaign County, Ohio to... Mary Elizabeth Evernham 68, widowed, born in St. Paris, Ohio, d/o Austin Evans & Elizabeth Clark.

1932 The Saint Paris News-Dispatch, May 26, 1932.. "DAUGHTER DIES IN CAMBRIDGE... Mrs. Maud Baker, daughter of Mrs. Charles Merz of St. Paris, died at her home in Cambridge, Ohio, May 18, She had been in failing health for some time, succumbing to the third stroke of paralysis. She was born in St. Paris, April 26, 1881, being the only daughter of Mary and Joseph Everingham. She moved to Columbus with her parents when a young woman and was married there. Besides her mother, she is survived by her husband, two sons, Joseph and Arthur, and one grandson."

1946 The Saint Paris News-Dispatch, Thursday, July 25, 1946... "Aged Widow Dies Saturday Mrs. Mary Muirs Jones, 87, died at her home on West Lynn street, Saturday noon, after several years of declining health. She was born in Champaign county, December 14, 1858. Her maiden name was Evans. Mrs. Jones was married three times all of her husbands having died. Her first marriage was to Joseph Everingham to which union one daughter, Maud was born. She died in Columbus some years ago, survived by her husband, Charles Baker and two sons, Joseph and Arthur Baker. The Everingham family lived for a number of years in Columbus, the widow returning to St. Paris after Mr. Everingham's death. Mr. Muirs and Mr. Jones died after she came here."