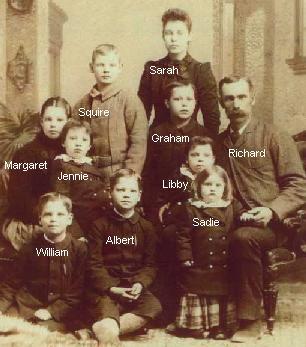 DAVIS FAMILY circa 1889
from Donald Danskin 2003

fact sources and writings about this individual:
Richard G. DAVIS was the son of Squire (b.1825) & Janet (FERGUSON) DAVIS and was born about 1852 in Uxbridge, Ontario. Other sources state that he was born in Onondaga Township, Brant County, Ontario.

2Information 2003 from Stephen Heeney about the Davis family.
according to Stephen; Squire was born 1825 & died 1886 in Onondaga Twp, Ontario. Janet was born 1825 and died 16 Oct 1905. They are buried at Pleasant Hill Cem, in Onondaga. Squire & Janet's children were;

William (b.1847)
David (b.1849)
Richard (b.1852)
John A. (b.1857)
Margaret (b.1858)
Isabella (b.1859)
Elizabeth (b.1862)
For detailed information
about the Davis family
see: stephenheeney.com
for an interesting
view of the family's
historical past...
Thomas (b.1865)
Alice (b.1867)
Robert (b.1870)
James (b.1873)
Albert (b.1875)

Richard & Lucy's children's names also from
Stephen Heeney, Sept. 2003
---
Haldimand Co. Marriage Record found by Kevin Everingham 2003;
#003652-1880 Richard Graham DAVIS, 28, farmer, s/o Squire & Janet, married Sarah L. Elizabeth EVERINGHAM, 24, Dunnville, Onondaga, daughter of James & Violet, witness; Emma T. MELLISH & F. Constance MELLISH of Caledonia. Married Nov 22, 1880 Caledonia.