fact sources and writings about this individual:

Research on this family from Kevin Everingham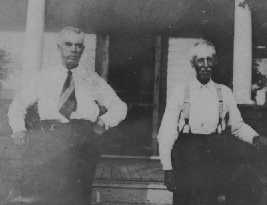 photo right; Henry and brother Ira at George Graves home, Onaway, MI, circa 1923.
---
(personal interview w/Kevin) Inez (Graves) Robinson, Granddaughter of Ira Everingham, said in August, 2004, that she remembers uncle Henry visiting her family every summer and taking her shopping. Ira lived with the George & Edith (Everingham) Graves family of Onaway, MI in his later years. Inez recalls the day a Western Union man came to her parents home to deliver a notice of uncle Henry's death in 1928. This detail proved that he was not the Henry Everingham who died in St.Clair County, MI in 1890. (along with photos)
1891 Huron County Marriage Record Record #60, March 21, 1891,... William H. Everingham, 31 of Oscoda b.NY, Lumberman, son of James Everingham & Violet Burnam, no previous marriages, .... Annie McIntyre, 26 of Grind stone City, b.CAN, d/o Donald McIntyre & Ellen Kennedy, no previous marriages.
1893 Iosco County Birth Records, Book 2, pg. 177 ... Ervingham, Percy -- born March 5, 1893.
1894 STATE CENSUS Oscoda, Iosco Co. MI... Henry Ervingham 33,.. Anna 27,.. Percy 1.
1900 CENSUS Oscoda village, Iosco, MI ... Henry Ervingham 38, b.Feb 1862 NY, father b.NY, married 9 yrs, mother b.Germany, year of immigration blank.. Anna 35, wife, b.Sept 1864, b.MI, married 9 yrs, mother of 1 child, 1 living, year of immigration to US; 1868,.. Percy 7, son, b.March 1893 MI.
1910 CENSUS Oscoda, Iosco, MI, ED122, Sheet 3B
Village of Oscoda, Irvingham, Henry, Head, M, W, 49, Married 19 yrs, born in New York, father; Can English, mother; Can English, occupation; lumber piler, at a lumber mill
Irvingham, Anna, wife, F, W, 45, married 19 yrs, mother of 1, 1 living, born in Can English, parents same, immigrated 1866,
Irvingham, Percy R, son, M, W, 17, born in Michigan, father born in New York, mother born in Can English.
1928 St. Clair County MI Death Record.... William Henry Ervingham, 68, widowed, born 15 Feb 1860 NY, died 18 Feb 1928 at Port Huron, St. Clair, Michigan.