research of Kevin Everingham of MI (2006+):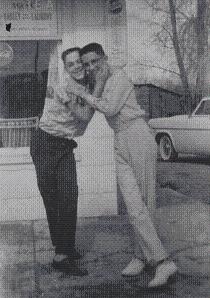 Teens Harold Johnsen & Marv
Everingham, Butternut, MI 1959

Marriage Record #267 State ID#4417:
Eugene D. Everingham (21), of Carson City, MI, born in Onaway, MI, laborer, Father: Raymond Everingham, Mother: Leora Morgan.
Clara Johnsen (18) Carson City, MI, Born in Grand Rapids, MI. Father: Carroll Johnsen Mother: Clara May.

License Dec 8, 1958, marriage at Butternut, Montcalm County on Dec 13,1958. Witness Barbara L. Johnsen of Carson City, Marvin N. Everingham of Carson City, MI.

1940 CENSUS Ward 2, Grand Rapids, Grand Rapids, Kent, MI (EnDist 86-79, Sheet 13A, family #283) .... Carroll Johnson 29, b.MI, residence in 1935; Big Rapids, MI,.. Clara Johnson 19, wife,... Barbara Johnson, 0, daughter.

2002 Funeral Card ... In loving memory of Jack L. Johnsen, born June 23, 1944 Grand Rapids, Michigan... Death November 3, 2002 Grand Rapids, MI. Lux and Schnepp Funeral Home, Carson City, Michigan, Rev. James Barrett officiating. Interment; Bloomer Township Cemetery, Carson City, MI.

SAME/Related? at Fairplains Cemetery, Grand Rapids, Kent County, MI... Carroll K. Johnson (b.1911, d.7 May 1980)... S1, U.S. Navy, World War II. I do not know if this is the correct Carroll Johnson.