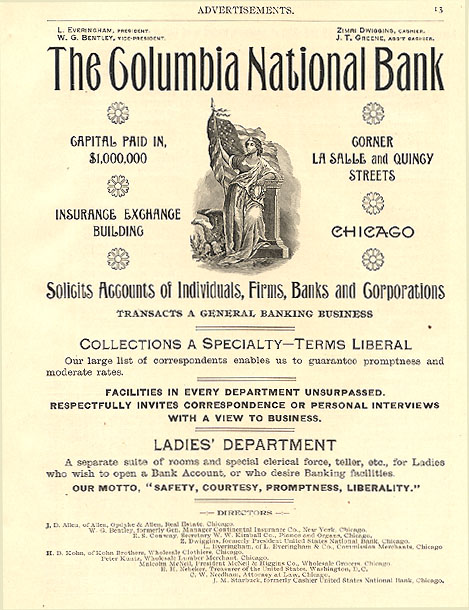 fact sources and writings about this individual: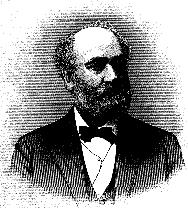 Sketch (left) of Lyman from "Prominent Men of the Great West, (c)1894"

Occupation: Commission merchant & bank president! (enlarge advert.)
Also known as: "Lyman Everingham"
Residence: 1839 - Chicago Cook Co. Illinois

Click advertisements to see an enlargement of these 1891 Newspaper Ads!

Transcribed research (below) from Kevin Everingham of MI, 2018

1865 according to his advertisement above, L. Everingham & Co. Commission Merchant business was established in 1865.

1870 U.S. CENSUS (House #601, line 27).. "Lyman Everingham 38, b.NY, occ: Com. Merchant, value of estate; 20,000,.. Mary Everingham 32, b.NY, keeping house,.. Edward Everingham 11, b.WI, scholar,.. Julia Everingham 5, b.WI, scholar,.. Barbara Romas 23, b.Bavaria, domestic servant."

1879 Watertown Republican Newspaper, Watertown, Wisconsin, Oct 1, 1879.. "New Chamber of Commerce building advertisement of the leading businesses of Milwaukee, lists, Commission Merchants; L. Everingham & Co. (among others)"

1880 U.S. CENSUS Milwaukee, Milwaukee, WI (Sheet 208A, house #6600430).. "Lyman Everingham 49, b.NY, occ; Grain Commission,.. Mary D. Everingham 43, b.NY, wife, house keeper,.. Edward L. Everingham 21, b.WI,.. Julia Everingham 16, b.WI,.. Belle Everingham 9, b.WI,.. Henry D. Everingham 6, b.WI,.. Mary L Everingham 1, b.WI,.. Lizzie Reimer 26, cook,.. Anna Downy 22, servant,.. James Lynch 27, gardener"

1882 Daily Globe Newspaper, St.Paul, Minnesota, Oct. 7, 1882 (page 2).. "The case of Lyman Everingham against Patrick H. Meeghar, which was instituted in the Milwaukee circuit court to recover a balance claimed to be due on a grain contract, and decided in favor of the plaintiff, was carried to the supreme court in an appeal, and that tribunal has just reversed the decision and remanded the case for a new trial. In 1878, Meeghar a Cresco, Iowa grain dealer who had previously done business with Everingham, then of Milwaukee, but now of this city, employed the latter to buy and sell grain for him. The speculating transactions having resulted disastrously, an action was brought by Everingham against his customer to recover $2,109.64, the amount claimed to have been lost while speculating on his behalf."

1885 St. Paul Daily Globe, March 19, 1885... "(the courts) Lyman Everingham vs. R. Barden, to recover $16,000 money loaned... Lyman Everingham vs. R. Barden, defendant, Chicago, St. Paul, Minneapolis & Omaha Railway company, garnishee; action for garnishment."

1887 The Mitchell Capital, Mitchell, South Dakota, May 27, 1887.. "Chicago, May 25 - The board of trade firm of L. Everingham & Co., has no connection with and is not in any way affected by the failure of G. Sumner Everingham which occurred here yesterday." apparently distancing himself from any connection to his brother's business.

1893 Watertown Republican Newspaper, Watertown, WI May 17, 1893.. "Columbia Bank Fails... Another Chicago depository forced to close its doors and discontinue operations. As to the cause of failure, those who should know say that collections on loans have been poor. J.L. Everingham, president, W.G. Bentley, vice-president. "

1900 U.S. CENSUS Chicago, Cook, IL (Sheet 3B, house #54)..."Lyman Everingham 68, b.May 1832 IL, occ: Comsn Grain,.. Mary 63, b.Aug 1837 IL, wife,.. Edward 41, b.May 1859 WI, son, occ; Comsn Grain,.. May 21, b.Aug 1879 IL, dau,.. Mary Carroll 36, b.IL, servant."

1914 Riverview Cemetery.. "Lyman John Everingham, (b.9 Sept 1831, d.18 Feb 1914) burial at Seymour, Jackson County, Indiana.