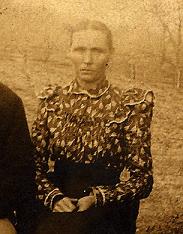 fact sources and writings about this individual:

Photo right (Sarah Farnham Morgan)

Joseph's grand-daughter "Leora" stated in 2000, that she remembered her grandpa Morgan dying (80 yrs ago!) on Christmas Day in 1920. She would have been only 9 years old at the time. Cheboygan County death records confirm this giving the following: Joseph Morgan b.1854 d.25 Dec 1920 in Forest Township, Cheboygan County.

Jack LaPeer sent the following info in Nov, 2000: Forest Lawn Cemetery, Tower, Forest Township, Cheboygan Co: Joseph Morgan 1854-1920. Also buried here is a Millard A. Morgan 1908-1977 who may not be related? -- Family say that Sarah Morgan was also buried there.

Sibling "AMY" is another memory of Leora. Leora also recalled that Sarah Farnham (her grandmother) had a brother., we later found photos of uncle Henry Farnham, "Sarah's" brother. In 2003, Scott Ives' research showed "Amy" and other siblings of Joseph Morgan.
---
MICHIGAN CENSUS DATA
research of Kevin Everingham 1999-2010
1855 STATE CENSUS Warwick, Orange County, NY (June 1855, house #252).. ."John Morgan 40, colier,.. Amy Morgan 34,.. Wm. Morgan 12,.. Elizabeth Morgan 9,.. Mary Morgan 6,.. Margaret Morgan 4,.. Catharine Morgan 2,.. Ann Conklin 14, hired hand." Joseph is not here in 1855 so was likely born later this same year and not 1854 like family Bible's & cemetery records show.
1860 CENSUS Victor, Clinton County, MI
John Morgan 45, farmer born in NY, Amy 39, b.NJ, William 18 NY, Betsy 15 NY, Mary 12 NY, Margaret 9 NY, Catherine 7 NY, Joseph 5 NY, Amy 1 MI.
1870 CENSUS Victor, Clinton County, MI
John Morgan age 55 farmer, born NY, Amy 49, keeping house, b.NJ, Catherine 17, b.NY, Joseph 14, farming, b.NY, Amy 10, attending school, b.MI.
1876 Shiawassee County, MI Marriage Rec #1604 "married at Vernon, Joseph Morgan of Victor, age 21, b.NY, farmer,... & Sarah Farnam of Victor, age 16, b.MI.. witness; Mary E. Weeden of Vernon & Lizzie Smith of Vernon, Charles P. Weeden, Justice."
1880 CENSUS, Victor Twp, Clinton County, MI;
Joseph Morgan, age 24, a farmer born in NY, Sarah Morgan was age 20, born in Michigan, Laura was age 1.
Living close to them was;
1880 CENSUS, Victor Twp, Clinton County, MI;
John Morgan, age 65, and Amy Morgan age 50. (Joseph's parents)
1900 CENSUS Bennington Twp. Shiawassee, MI ... Joseph Morgan, b.Aug 1854 NY, parents b.NY, married,... Sarah, b.Dec 1860 MI, wife, parents b.NY, married 24 yrs, mother of 4, 3 living,... Laura, b.Sept 1878 MI, daughter, single,... John, b.Oct 1880 MI, son,... William, b.June 1882 MI, son.
April 27, 1910 Owosso, Shiawassee County CENSUS;
Joseph (55) and Sarah (50) Morgan were living with their son William's family. Joseph and Sarah are identified as having 3 children, and had been married for 34 years.
1911 Owosso City Directory 1910-1911.. "Joseph & Sarah Morgan, he was a laborer at the Independent Stove Co., and resided at 439 E. Comstock, Owosso, MI."
1912 The Owosso Times, March 22, 1912, Owosso, MI.. "(local news) Justice Friegel has given A.M. Goodwin a judgement of $40 against Joseph Morgan on a grocery bill claim, Morgan claiming he had paid the bill."
Jan 23, 1920 CENSUS Tower, Forest Twp, Cheboygan Co;
Joseph & Sarah Morgan lived next door to William & Gertrude Morgan. Joseph was 65 years old and was a factory worker. Sarah was 59 years old.
Dec 25, 1920 MI Death Certificate, Tower, Cheboygan County, MI #6.... Joseph Morgan, married, wife: Sarah Morgan... born August 24, Warick, N.Y.... son of; John Morgan, b.NY & Amy Parliament, b.NY,.. died December 25, 1920 at Tower, Cheboygan, MI of acute indigestion followed by h** paralysis... age 66y, 4m, 1d ... burial Dec 29, 1920. since there is no Warick in New York and we know his parents were in Warwick, Orange County, New York in 1850 & 1855, this is almost certainly where Joseph was born.
1926 The Cheboygan Democrat, July 15, 1926..(social section TOWER) "Joseph Bernia and wife entertained a cousin and his wife from Detroit.. Mrs. Sarah Morgan returned Friday from Cheboygan where she spent the past four weeks with Mrs. Eva McLaughlin."