fact sources and writings about this individual:

1Information supplied by Ann J. Everingham. noted that his children were: Bert & Harm. (no details) Is it possible this was Bert & Harv?

2Research of Kevin Everingham, 1999-2003.... updated 2013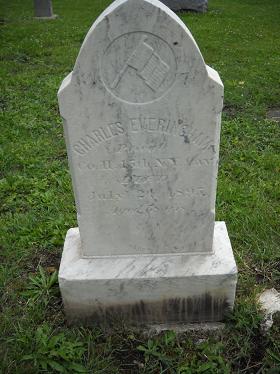 1850 CENSUS Manlius, Onondaga, NY (#592) ... Sarah Bradley 47,.. William Evingham 25, teamster,.. Geo Evingham 23, miller,.. Mary A. Evingham 25,.. Hannah Evingham 21,.. Angelina Evingham 19,.. Smith Evingham 17, boatman,.. John Evingham 12,.. Chet Evingham 10,..Orville T. Evingham 2. I believe "CHET" was Charles.
1855 STATE CENSUS Manlius, Onondaga, NY (Page 405, family #287).. Sally Everingham 52, lived in this town 23 yrs,.. Charles Everingham 15, not married, son,.. Louisa Everingham 20, married, daughter-in-law,.. George Everingham 0, grandson,.. James Everingham 21, son, married, occ: Boatman. as usual this Census is a little confusing but it appears that Charles was living with his mother and his brother James' family was living with her as well.
1860 CENSUS Manlius, Onondaga, NY (Page 80, family #567) ... John Evringham 21, b.NY, day laborer,... Sarah Evringham 57, b.NY,... Charles Evringham 18, b.NY, day laborer. brothers John & Charles living with their widowed mother.
1870 CENSUS DeWitt, Onondaga, NY ... Charles Everingham 27, farm laborer, b.NY,.. Mary Everingham 26, b.NY,.. John Everingham 32, b.NY, farm laborer,.. Mary Everingham 24, b.NY,.. Arthur Everingham 3. living 2 houses away was; Theodore Everingham 24, farm laborer, living with the Jonathan Steggall family.
This may be another Charles:
1862-1888 EVINGHAM, Charles, res. Fayetteville, NY, private, 122 NYV, Co. C., enlisted Syracuse, N.Y., mustered in Aug. 28, 1862, deserted. (name spelled Evingham per "The Fayetteville Gazette," Aug. 7, 1862.) (Evingham was 21 when he enlisted on Aug. 13, 1862 ... and was a private when he deserted on Sept. 30, 1863, Swinfen.) ... compare to his brother John Evingham, same unit - 122 NYV... (He was Living in Fayetteville in 1888.)
1875 NY State CENSUS, E.D.2, Manlius, Onondaga, NY (Page 50, Fam#137) Charles Everingham 33,.. Mary Everingham 32,.. Lilly May Everingham 1.
1880 CENSUS Fayetteville, Onondaga, NY (Page 18A #1533) ... Charles Everingham 39,.. Mary 34, wife,.. Lillie 6,.. Harvey 3.
---
1891 Not known if this is the same Charles or not... The Auburn Bulletin, Monday, Aug. 10, 1891... "A Recruit for the Asylum. Charles Everingham was brought to the insane asylum from the Onondaga county Penitentiary by Deputy Sheriff John C. Kratz Saturday afternoon. Everingham was awaiting trial for arson, but he was undoubtedly insane when he committed the crime and violently so during his confinement."
1891 New York State Census - State Asylum for Insane Criminals, Auburn, Cuyuga County, NY ... Charles Everingham, male, 54 yrs old, born in U.S.A., occupation; Miller,.. Received from: Onondaga County, NY,.. Residence; Jamesville, NY.
1892 also not known if this is the same Charles, also from Jamesville...The Express, Syracuse, New York Newspaper, Thursday, February 18, 1892. TWAS A BAD COMPANION, A Two-Gallon Jug of Whiskey Misled Mr. Everingham Charles Everingham of Jamesville drove to town Friday in a bob-sleigh and bought a two-gallon jug of whiskey. Later in the day he attracted considerable attention. He had drunk often from the jug and was on his knees in the sleigh, his arms and head hanging helplessly over the dash board. When near St. Paulís cathedral he fell out of the sleigh, but managed to crawl back again and occupied the same position. The team stopped, as if by instinct in front of the Station House, and Everingham was locked up, while the team was sent to the Candeo House barn. Saturday Everingham was reprimanded for intoxication and was discharged.
---
1892 STATE CENSUS DeWitt,ED1, Onondaga, NY ... Mary Everingham 40, b.IRE, Harvey Everingham 18, laborer,.. Bertie Everingham 6.

1895 Walnut Grove Cemetery, Jamesville, Onondaga County, New York... "Charles Everingham (1837-1895),.. James Everingham (1836-1910),.. Mary Everingham (1847-1910)"... Charles' stone; "Charles Everingham, Private Co.H, 15th N.Y. Cav., died July 24, 1895, aged 58 yrs."

1900 CENSUS DeWitt Twp (southern), Onondaga, NY Dist12, EnDist#44 Sheet 10B
Mary Evaringham, head, b.Aug 1845, widowed, mother of 3, 3 living b.NY parents born in Ireland,.. Harvey, son b.Feb 1876, single, b.NY occ: Wheelwright,... Berttir (sp?) ?possibly Berttie?, son, b.Mar 1885, age 15 b.NY, at school.

1905 CITY CENSUS DeWitt, Onondaga NY June 1, EnDist 1, page 5
Mary Evringham, head, 64, born Ireland, 60 years in the United States,.. Harvey, son, 28 b.US, Automobile Worker,... Bert(hard to read), son 17, b.US, Machinist.

I believe that Mary may have married a Mr. MILES after 1905 since Harvey and Bert are mentioned as half brothers of Charles H. Miles who died in 1937.
Heart attack proves fatal to Charles H. Miles Charles H. Miles, 77, died suddenly about 2:30 pm yesterday at the home of Mr. and Mrs. Charles Duell, Pine St. ... surviving are three daughters Mrs. harry Young, Mrs. Thomas Sullivan; and one son Rowley all of this village; two half sisters, Mrs. David Dunlop, Syracuse, and Miss Hattie miles, Gloversville; two half brothers, Burt Everingham of Virginia and Harve Everingham, Syracuse. Several grandchildren also survive.