WAR RECORDS:
(finding genealogical links)
Everingham's who fought
in MAJOR WARS
& family Military Service
MICHIGAN DRAFT REGISTRATIONS WWI:
Charles Everingham | George Everingham | Henry Everingham | Frank S. Everingham | Orley Everingham | David Everingham

---



See MEDALS, Awards, & Honor's of Everingham's
---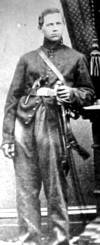 ROSTERS & MUSTER ROLLS
& Where to search for "Everingham"
Military Rosters

Company and/or Regiments
That Everingham's served in.
linked to informational or roster websites





more to come at a later date....


Do you have any data to add or war Rosters containing EVERINGHAM's?... contact us ASAP, by clicking on the
(Contacting Everingham's) tab.

BACK to the Resources Page

.
.







.